THE BLUE SPITFIRE

My late father, Dr. John Tearle, had worked for Kodak Ltd all his working life. He joined the Research Laboratory in Harrow, London in November 1939 after completing a degree in Physics at Nottingham University. He was intending to undertake a Ph.D. there but the war intervened and he decided that Kodak's war work might suit his knowledge of optics.

Growing up in the 1950's I knew that his work had involved the optical systems used for aerial photographic reconnaissance, in particular in the Spitfire, and that he was awarded his Ph.D. for this highly classified activity. His thesis sat on the bookshelf, and remained quite unintelligible. I graduated in 1969, also from Nottingham University, and re-visited the pages of calculus but it remained a mystery.

My father died in 2009, and so often happens in these circumstances it took a while to go through his papers; eventually in 2016 I decided to look at the thesis again and try to relate it to two events in my life that seemed connected to his work.

His Ph.D. thesis is titled: "The influence of the dimensional properties of photographic objectives on their photographic resolving power", which sounds pretty dull. But in his papers I found a copy of a paper he delivered in 1946 to the first post-war conference on optics organised by the Institut d'Optique in Paris, titled "Definition in Air Photographs" which seemed much more interesting, and described the work undertaken at the start of WW2 in the Kodak Research Laboratory in Harrow, and the Royal Aircraft Establishment in Farnborough.

"The problem", he states in his Paris paper, "leading up to the investigations described in his thesis was to find the most suitable type of lens (in terms of focal length, aperture, and angle of view) and type of film, for use in high altitude air photography for reconnaissance purposes"

Still a bit dry, you might think, but Dr John Tearle's Ph.D. thesis was just a part of a work that was titled "The Performance of Aircraft Lenses", by E.W.H Selwyn and J.L.Tearle, which was published in the Journal of the Physical Society in 1946. What Selwyn and Tearle came up with was a formulation or theory that could predict and therefore optimise the performance of aerial reconnaissance cameras that included not only the above parameters, but also exposure times and aircraft speed. The work was initiated by the Air Ministry at the start of the war when it became apparent that RAF aerial reconnaissance was woefully inadequate.

The Air Photography Research Committee was established by Sir Henry Tizard in early 1940. The objective, although probably not described as such in the Committee minutes, was to "identify a man on a bike from 35,000 feet at 400 mph." For the story of why this became necessary and how it was achieved please read on………..

The other events in my life occurred 14 years and 44 years later. In 1954 (I think) at primary school in Harrow Weald, in north London I was captivated by a blue Spitfire that would fly quite slowly, and quite low, perhaps 1000 feet, on a regular basis. Of course every schoolboy could recognise the sight and sound of a Spitfire, but why blue and where was it going? I now recall thinking at the time that one day I would learn to fly…. …………….

Thirty years later our start-up food company, Phoenix Foods, was struggling for business, and we tendered for a major contract with the American Carnation Foods Company, which had a UK base in Buckinghamshire. I had arranged to meet the account manager to pursue our quotation for a substantial quantity of dessert products destined for the Gulf States. My father was a director of my company, and his home in Berkhamsted was on the way from our home in Leicestershire and I asked him to accompany me, and add some gravitas to our presentation, which he was happy to do, and we won the contract!

Carnation Foods had just acquired a country house by the Thames near Marlow, called Danesfield House, Medmenham, to be its UK headquarters. Once we got there my father realised where we were and told me that this had been the headquarters of the Central Interpretation Unit during the War and had processed and interpreted millions of images taken by the Photographic Reconnaissance Units (or PRU's), based or controlled from RAF Benson, just a few miles away in Oxfordshire.

The work of the Central Interpretation Unit and the PRU was comparable in significance with that of the cipher breakers at Bletchley Park – photographing that "man on a bike" and identifying him was one of the most significant endeavours of the Second World War. And, of course, the man that was so deeply involved in the cameras that took so many of those pictures was sitting next to me.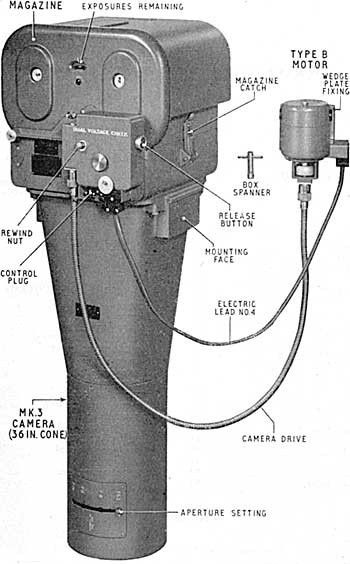 But, of course, that was in 1984, and by 2016 it was too late to start asking questions, so my research had to start with the basics. And now I know how Kodak's (Selwyn, Tearle and others) research work turned a possibility into reality by producing the F52 camera that fitted in that Blue Spitfire (and Mosquito!) that took all those pictures interpreted at Medmenham!
What follows is my own brief history of aerial photographic reconnaissance, and how it was left to British Intelligence (MI6) to save the day as the Second World War approached, and is dedicated not only to my father, but the many brave pilots and crews, and the thousands involved in the greatest reconnaissance exercise in history.
Back to "Articles and Features"..........

All Rights Reserved © David Tearle 2023