ROCKET 44


When General Motors killed off the Oldsmobile marque in 2004 it was the oldest name in United States automobile history and second only to Peugeot in the world. But after its first half century, at the end of the 1940's its image had become staid and sales were suffering as a result. This was not a brand for the hundreds of thousands of GI's returning to the States after World War 2. They wanted something new and exciting, but a new engine, and a new name changed everything, when in 1949 Oldsmobile introduced a new 5 litre OHV motor – the" Rocket V8", in a new car – "the Rocket 88"

Just months before ex- US Airforce test-pilot Chuck Yeager had taken the rocket powered experimental Bell X-1 through the sound barrier and to the edge of space. The space age had begun and launched an Oldsmobile resurgence with it. But the new Oldsmobile was not all sales hype – the Rocket 88 went as well as it sounded! The performance that resulted from a large engine in a relatively light body was soon exploited and the Rocket 88 became the car to beat in NASCAR racing, winning for four straight years from 1949, and winning the Carrera Panamerica outright in 1950. It was more or less unbeaten until the arrival of the Hudson Hornet in 1953. The car, the engine and the marketing – "make a date with a Rocket 88" did indeed attract thousands of returning GI's, and sales soared.

The conservative Oldsmobile image was gone, summed up in 1951 by the recording of "Rocket 88" by Jackie Brenston, Ike Turner and the Delta Cats, now considered to be the first ever Rock & Roll track to be released. Oldsmobile sales - based on a range of "88" variants held up through the 60's and 70's but by the end of the 80's the brand was again in decline, and its performance mantle had passed to Chevrolet and Pontiac .

Sales of over a million in 1986 had become 400,000 by 1992, and rumours swept through the company that it might be consolidated into another GM division or eliminated altogether. There was some truth in the rumours but GM relented and gave the job of saving the Company to the brash, and larger than life General Motors veteran, John Rock. Rock was the son of a South Dakota Chevrolet-Oldsmobile dealer and had risen through the ranks at Buick, GMC and Holden in Australia, where, despite General Motors' "no motorsport" policy, he had contrived to use a dealer based racing programme to lift its faded image with great success.

Rock took over as General Manager of Oldsmobile in the summer of 1992, but the rumours that GM was about to axe the brand persisted; he did not have time on his hands, nor did he have the ability to make major changes to GM's corporate model philosophy. He did, however have a substantial sales and marketing budget, a new model to launch, the Aurora, and relative freedom to lift the image of the company as he saw fit. At the same time GM was developing its Northstar 4.6 litre V8 engine, exclusively for Cadillac, designed to provide the power and refinement to match European and Japanese premium brands, and Rock saw the opportunity to repeat the image boost that the Rocket V8 had created four decades earlier.

GM had no intention of using its Northstar anywhere but Cadillac, but as a testament to Rock's powers of persuasion, he acquired the engine in 4.0 litre form and branded Aurora for the forthcoming new model, which would eventually launch (three years late) in 1995. Rock now had a motorsport engine and discussions followed with Tony George about the supply of a power unit for his proposed breakaway series (from the dominant CART single seater championship), titled the Indy Racing League, or IRL, which would use V8 passenger car derived engines of 4.0 litre capacity……. Rock was on a roll.

Whilst a change in the GM range was beyond his reach, the opportunity of an "external programme" now presented itself. In this instance "external programme" was code for an Oldsmobile sports-car, and John Rock already had an engine……

Meanwhile, back in the UK Ginetta Cars had been going through a difficult time. A 1989 buy-out of the business from the Walklett brothers by a team led by Martin Phaff had been pitched into turmoil in May 1992 when Britain was forced to leave the ERM – the European Exchange Rate Mechanism. Ginetta's bankers, in their wisdom, had chosen to denominate its loans into Japanese Yen as a result of strong sales into Japan. After a day of frantic interest rises by Chancellor Norman Lamont, the Conservative government admitted defeat and left the pound sterling to find its own destiny. One "unexpected consequence" of this regrettable event was that the dramatically reduced value of its yen bank loans breached its banking covenants, and the Bank, having given the directors 48 hours to find £200,000, summarily pulled the plug on the business.

Stunned by the apparent unfairness of events, in particular to loyal employees, Martin Phaff set out to recover as much as possible from the receivership that followed. Whilst the vultures circled, he convinced a number of his dealers, that Ginetta Cars should be re-started, and so it was that the Company was acquired from the administrators at the start of 1993, and now owned by a group of disparate (sometimes desperate) sportscar dealers from around the world. At this point the key players were Martin Phaff, and David Tearle in the UK, Benny Smets in Belgium, and Ingmar Engstrom in Sweden.

The new multi-national owners of Ginetta emerged with stock, goodwill, jigs and fixtures and some tooling, but little else, and the business was re-established in an old steel stock warehouse in Rotherham, South Yorkshire. Although the company had been present at the 1992 NEC Motor Show whilst in administration, and much interest had been shown in the longer wheelbase and improved G33 SC, and the 4 cylinder Ford Zeta powered G33 Club, the rear-engined G32 had already effectively priced itself out of the market. It soon became clear that the re-started company did not have the resources or working capital to produce and sell complete cars, so the Board took the decision to step back to kit car production with the G27, which was an updated version of the classic sixties G4. The G33 was also offered briefly in kit form, after the cars already in-build had been completed, but proved to be too expensive and complex. Production of the "heritage" models G12 and G4, which had been destined for Japan, and which had been the cause of the unfortunate yen bank loans two years before, continued briefly but suffered contractural problems and was discontinued.

Some UK dealers had walked away, but others were keen to continue. The new dealer based ownership of the company covered the UK and Europe. Japan was only interested in the supply of the classic G4 and G12, but the USA had great potential, but with increasingly stringent import conditions it was becoming a difficult market to satisfy. There were however, several candidates who had shown interest in acting as US agents for the new company, even whilst it was in administration, and a few weeks later in January 1993 the Company received an approach from an American consortium looking to source a British sports car to form the basis for a low volume "image builder" for an unidentified, but major US car manufacturer. There was an intriguing element of history repeating itself here, as The Walklett brothers had developed the G10 in 1965 to rival the Shelby Cobra, and used the same Ford 289 V8 engine. Lighter than the AC Ace derived Cobra, it would have become a real force in American SCCA racing, and substantial orders were received from the US importer. Unfortunately, reaching the production numbers for homologation was beyond Ginetta's resources, and with the prospect of the car being classified with sports racing cars such as the Lola T70, the initial orders were cancelled. (The G10 was abandoned after just six cars had been built, and re-engineered with the MGB powertrain as the G11, but component supply problems brought production to a halt after eleven cars had been assembled).

Despite initial scepticism, and with Martin Phaff very much pinned down fighting fires, David Tearle, as technical director was dispatched to the US to appoint a dealer, or dealers, and pursue, with caution, the "Cobra for the Nineties" In Miami, long-time car dealer Frank Boulton revealed the names of the other members of the consortium - designer and stylist Larry Shinoda, famous for the Corvette Stingray, and Larry Nye, a former GM executive, and outlined their proposals. Boulton and Shinoda had created a new company, to develop a coupe and roadster based on the Ginetta G33 model to be sold through selected dealers of the as-yet un-named division of the un-named large motor corporation .However, close scrutiny of Shinoda's initial sketches revealed the Oldsmobile Rocket logo…..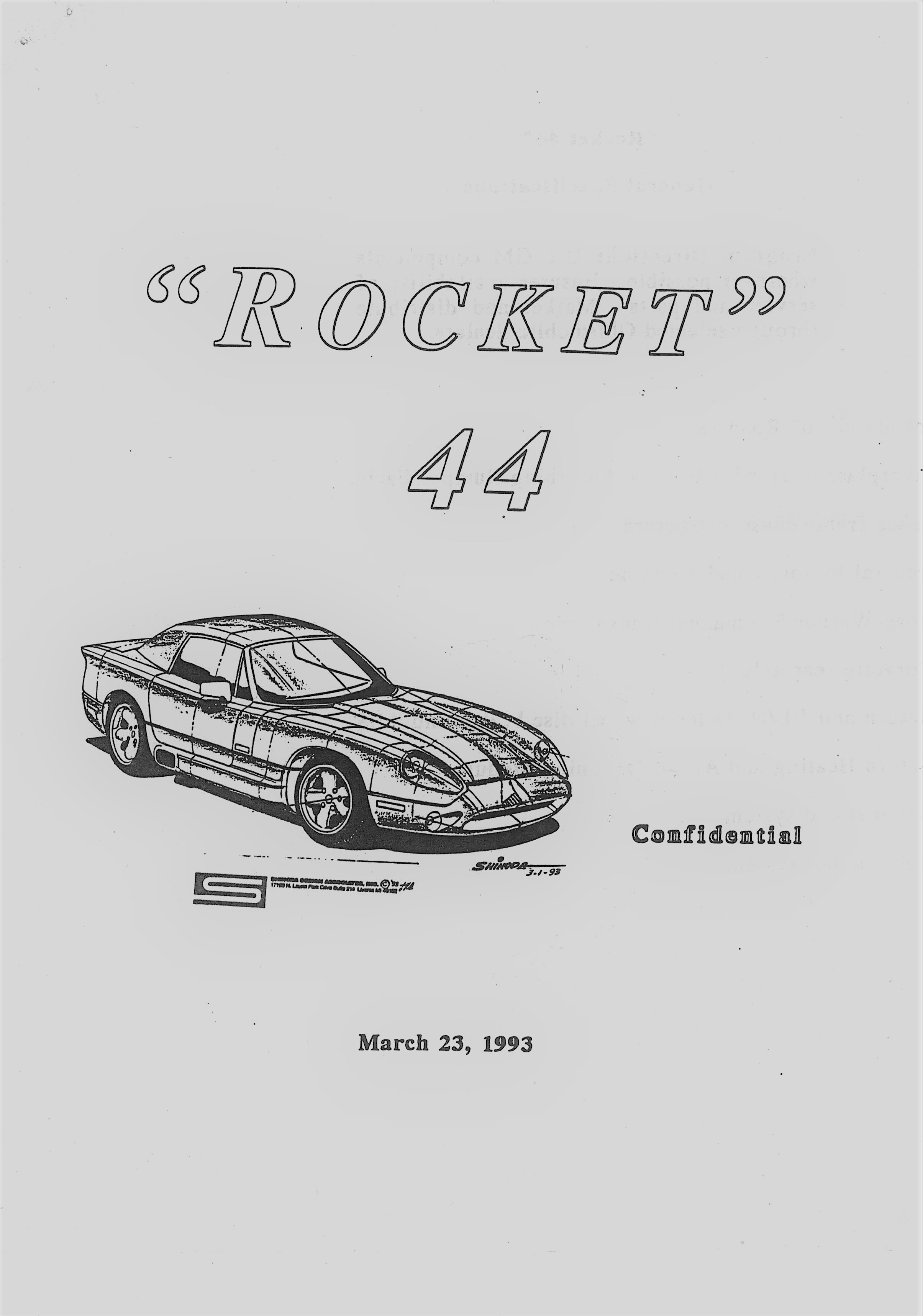 An agreement was discussed whereby Ginetta Cars would supply three cars – a works mule, fitted with the new Oldsmobile Quad 4 power unit and Borg Warner manual transmission, but otherwise the vehicle was to be standard G33, in the interests of time. Subsequently two show cars were to be built, one coupe powered by the Quad 4 engine, and one roadster, with the "standard" Rover V8. Shinoda- Boulton subsequently confirmed that the" major corporation" was, in fact General Motors, and the division was indeed Oldsmobile, and that they were working with newly appointed General Manager, John Rock. Rock, however, would not be formally associated with the project until the show cars were presented at the Detroit Motor Show in January 1994. At this point he would sign the project off, which would release the funding and dealer credit from General Motors. Vehicle sales would be through about 30 selected dealers, each of whom would be expected to take at least 10 units each per annum, and participate in a motorsport program - as had been so successful in Australia - with Bridgestone Tyres already pencilled in as title sponsor. The new car was designated Rocket 44 for the four-cylinder and Rocket 88 for the V8, which in time would be powered by the 4 litre Aurora North Star engine. The close association between Rock and Rocket had not been lost on Shinoda! Vehicles would be UK built, as rolling chassis, for shipment to the US where the Oldsmobile powertrain would be fitted.

Back in the UK, Ginetta, still struggling to get the company back on its feet, decided to concentrate on kit car production, a decision that was not popular with Ingmar Engstrom, who believed that it would be possible to manufacture the G33 in Sweden with turbo Volvo power, and he undertook to produce a prototype, designated G34. There was, however, a rationale behind Ingmar's ideas; In 1992 Volvo had been forced to shut down its new production facility at Uddevalla, near Gothenburg, with disastrous consequences for the local area. Volvo and the local authority were highly motivated to find other manufacturers prepared to use this new facility, and were prepared to offer financial incentives…….

Meanwhile, technical discussions continued through the early part of 1993 on the Rocket 44 project, although it was becoming increasingly clear that neither Ginetta Cars nor Shinoda-Boulton had the cash to bring the project to the level to get the support of John Rock at Oldsmobile, and eventually of General Motors. But the potential to use the Uddevalla factory with a Swedish development grant to fund the development of the new car raised the real possibility of unlocking a deal, and meetings were arranged in the UK and Sweden in September 1993 to pin down the specification of the proposed sports-car and convince Volvo and the Development Corporation to make factory space, tooling, and in particular, funding available.

By now the British motoring press had picked up the story, which they were able to corroborate from US sources. In July Shinoda-Boulton outlined the heads of an agreement, and responded to concerns about the viability of the project by providing a copy of correspondence between them and John Rock. Martin Phaff and David Tearle met Larry Shinoda, Frank Boulton and Larry Nies in the UK for them to evaluate the G33 V8 and Cosworth Turbo for the first time, and subsequently the meeting was re-convened at the Uddevalla plant, this time with Benny Smets and Ingmar Engstrom.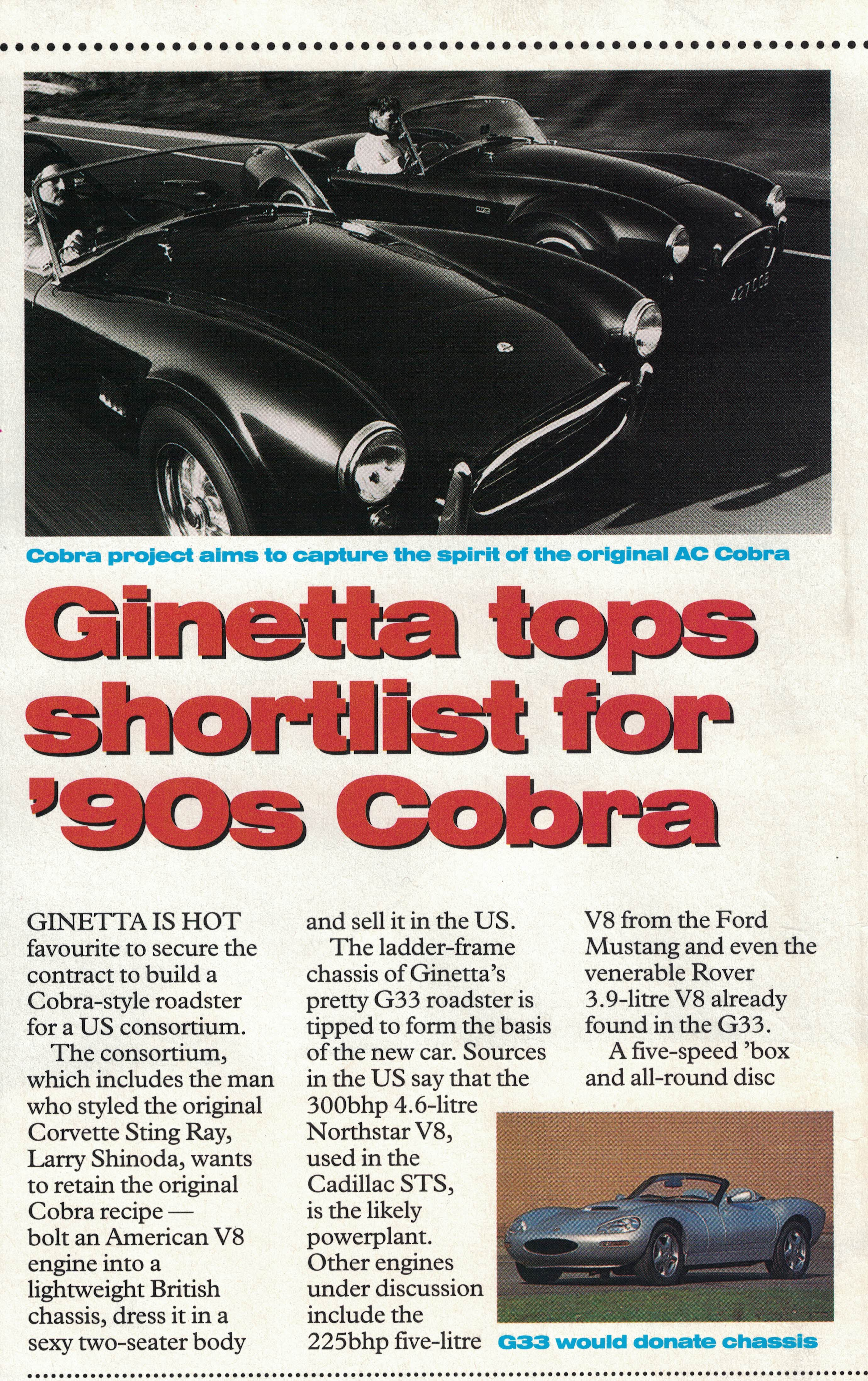 The Uddevalla plant had been designed by Volvo to break away from the traditional production line. They believed that cars built up by individual teams would provide a better working environment and improve productivity. The layout of the factory was therefore more informal and laid out in bays rather than lines, and could very easily adapted to low volume car manufacture.

Discussions continued during 1993 in Sweden and in the US, but in the end it proved impossible to finalise a deal at Uddevalla since the grants available required Swedish ownership and in particular commitments to use a Volvo powertrain, which would not be acceptable to Oldsmobile, and as 1993 came to a close it became clear that the Rocket 44 dream had come to an end.

The Rocket 44 never happened, and remains another footnote in motoring history; but its big brother, the Aurora V8 powered Rocket 88, planned for production once the 44 was established might have just become the "Cobra for the nineties"………………

A year later Shelby American attempted to repeat the process, but relations between Shelby and Rock were never easy. Shelby American eventually took the project on themselves and the Aurora V8 Shelby Series 1 was launched, heavily delayed, in 1997. It was not a success. Rock's plan for an Oldsmobile power unit for the Indy Racing League finally materialised in 1997, but Rock himself was to lose his job later in the year. Oldsmobile limped on for another seven years, and the brand was finally discontinued in 2004.

Ginetta Cars recovered from the loss of the Rocket 44 project, and eventually found its niche in a one-make racing programme, initially based around the G27, and later the G20. In 2006 the company was acquired by Lawrence Tomlinson to form part of LNT Automotive, and is now a major force in sports and GT racing around the world.
All Rights Reserved © David Tearle 2021

A Rocket 44 postscript:


Not long before his death, John Rock was interviewed in 2006 by Motor Trend magazine about his long career with General Motors. The subject of his time with Oldsmobile was discussed. He had the following to say about the Rocket 44 project, which gives an insight to the plan from his perspective!

"GM wanted to get out of racing, and down at Holden's we had our own factory team; so I said, well there's probably a way to do this. Let's take the race driver and about 20 or 30 Holden dealers and come up with a car-tuning company that'll do a special deal every year or two, and then only those dealers can sell it. We brought that first Holden dealer team special vehicle. It was a good looking car, and it performed. …..

"When I got to Oldsmobile, I bought Holden sales manager John Crennan over to the Townsend Hotel. And we set up shop on one of those suites out there and invited my boss, Mr Ron Zarrella, in. We showed him the whole concept of special vehicle. What we could do for Oldsmobile and how I could get a rear drive car, and we could get some image and distinctiveness out of all this, but it would take resources and doing some things different. Zarrella got up, looked at his watch, and said "Do you realize you've just wasted three-and-a-half hours of my time? Don't you understand what we're trying to do at General Motors?"

"I said to Crennan, We better go to the bar, John. My days may be limited!"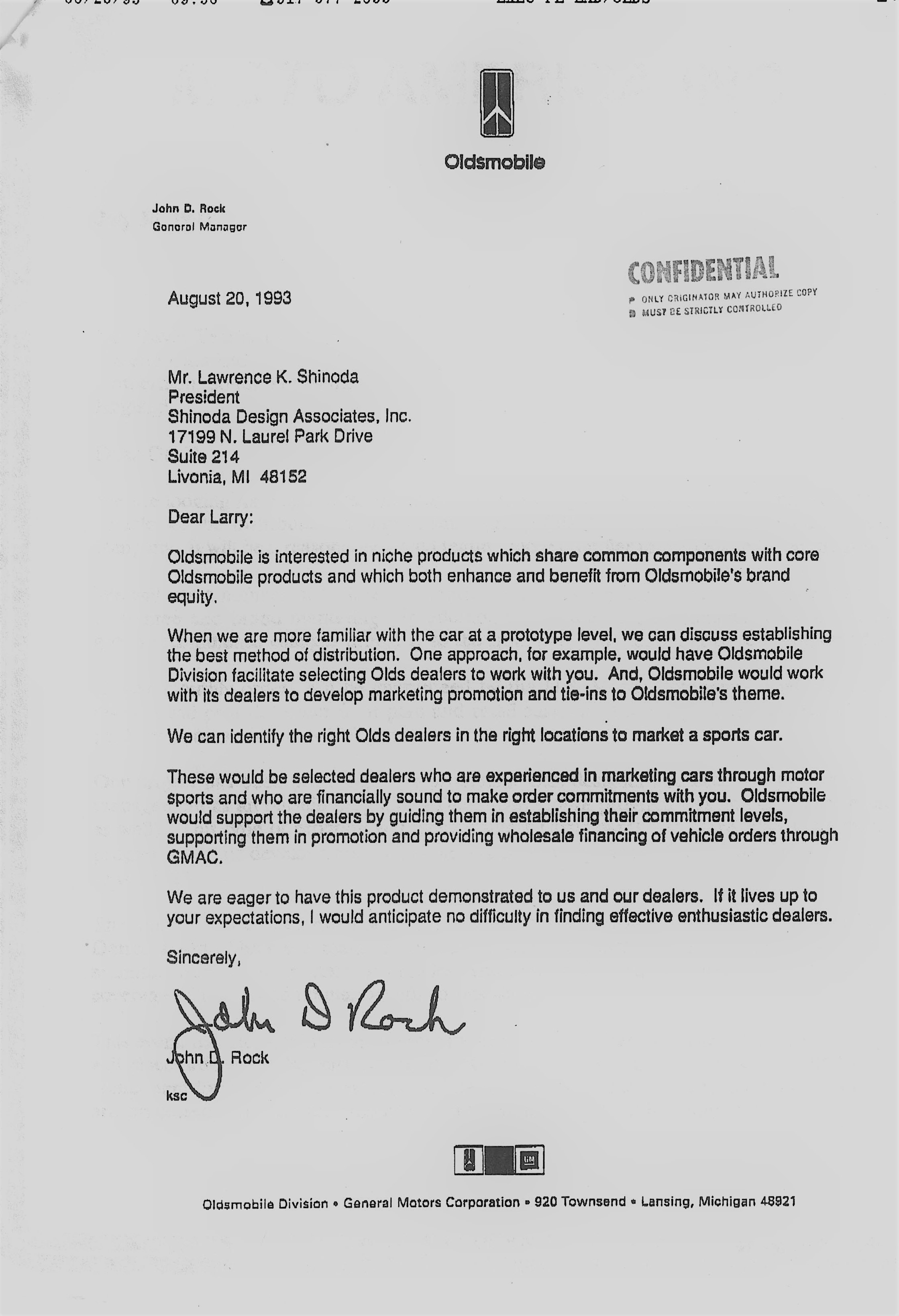 It was probably just as well that we didn't build the prototypes after all – it may have been on Rock's agenda, but it clearly wasn't on General Motors', nor was it two years later when Carrol Shelby approached Rock with the same idea. The Shelby Series 1 did make it to production, but not as an Oldsmobile, and it was not a success.

John Rock on Shelby Series 1, again from Motor Trend, 2006:

"One Friday afternoon, I said "Carroll, Oldsmobile's in a helluva mess; we've made a deal with Tony Hullman to get the engine north-south and go racing. If we could get that concept and splatter it over a car, steal a few Corvette parts to keep it going, and get an engineer who knows half-assed what he's doing, I think we could come up with a helluva car". But then I said, there ain't no money. And it's all out the back door. But if we had a prototype for the 1997 auto show, I do have a budget for concept cars" About the time this deal was done, my ass got thrown out. I don't think Shelby ever paid for his engines, because I don't think he ever got paid for his prototype. By that time I was in Mexico watching the waves roll in".
Back to "Ginetta Stories".............
All Rights Reserved © David Tearle 2023