'
THE LAST DAYS OF RELIANT MOTORS AT TAMWORTH...........

The glory days of the '70's and '80's were long gone - of Scimitar GTE's and royal patronage, and by the 90's Reliant Motors had fallen into disrepair.
Tom Williams founded the company in Tamworth in 1935, having developed a three-wheeler for Raleigh, of bicycle fame, who decided not to proceed with the project. Williams was convinced that there was a market for a small commercial that could take advantage of the tax breaks for motorcycles and three-wheel vehicles. He was right and the lightweight commercials were subsequently developed into cheap family transport that appealed to motorcyclists keen to stay in the dry.
In the early 1960's Williams was looking towards retirement and sold a controlling interest to the finance house Hodge Group in 1962, who, in turn sold it on to J.F. Nash Securities Ltd in 1977. In 1988 the Power Train division was sold to Beans Industries (which had recently been acquired by its management), and the engine production line was transferred to Tipton in Staffordshire. Beans Industries therefore became the main sub-contractor to Reliant Motors, although body manufacture and vehicle assembly remained in Two Gates site in Tamworth.
In 1990 Reliant Motors somehow managed to become involved in a "reverse takeover" of a major property developer, which soon failed as a result of "world-wide market difficulties", taking Reliant (and its Metrocab division) down with it. Beans Industries, still the major supplier and creditor now found itself in a difficult position, and in an attempt to salvage as much as possible from the collapse and retain the power train business, acquired Reliant Motors from the receiver in 1991.
Production of engines, gearboxes, axles, etc, re-started at Tipton and vehicle assembly re-commenced at Two Gates. Production was restricted to the three-wheeler range, but a much improved Sabre (SS1) sports car, now with Rover K Series engines, was shown at the 1994 Motor Show, and actually generated considerable interest. The company was fully aware of the limited future for 3-wheelers, and work was started on electric drive, fuel injection and 4-wheel derivatives. However, and almost inevitably, Beans Industries, in turn, now found itself in trouble, as a result of a £100,000 bad debt (not related to Reliant) and went into administration in November 1994, and in a distressing repeat of history, dragged Reliant under yet again….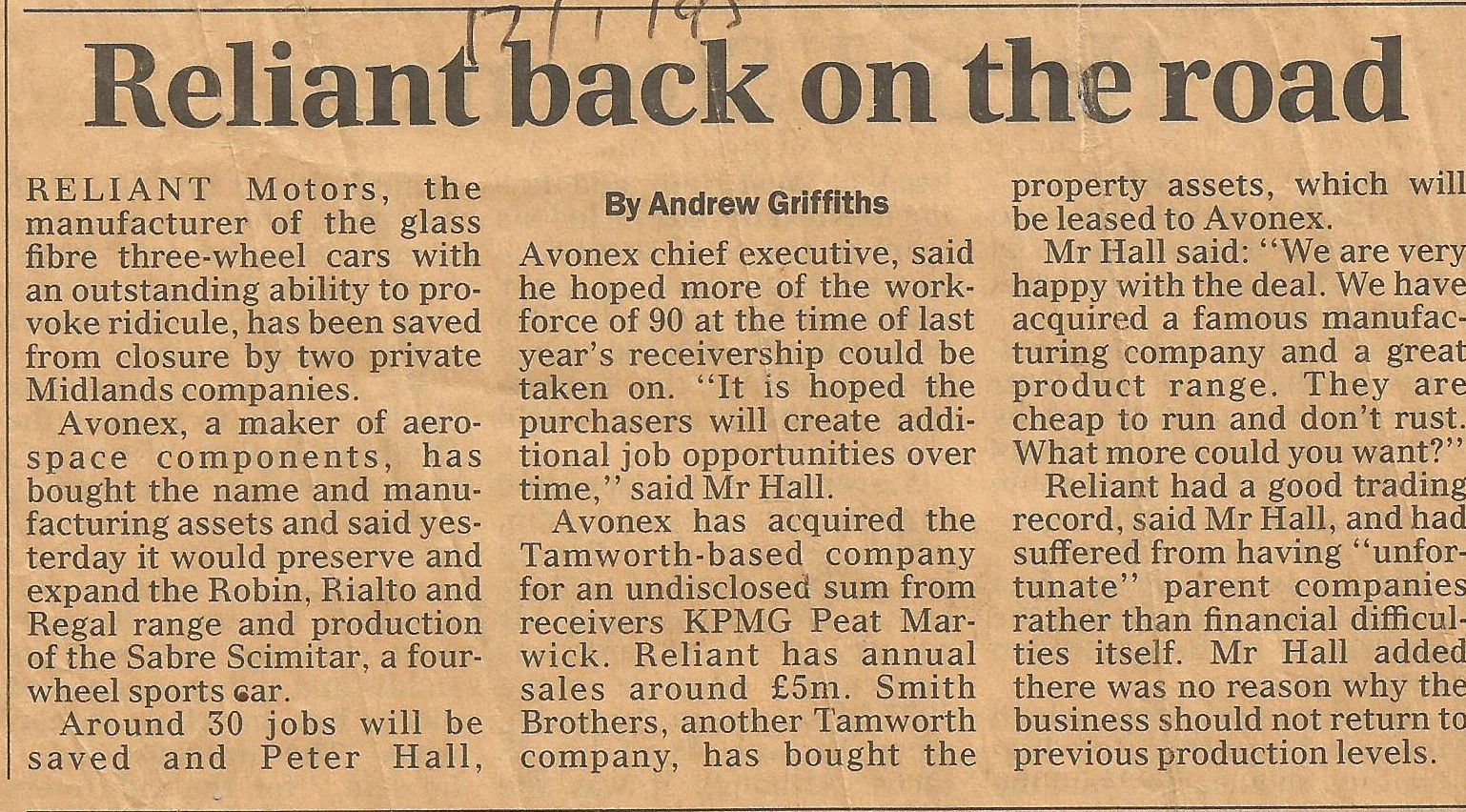 In January 1995 administrators KPMG announced that Avonex (Engineering) Ltd, claiming to be manufacturers of aerospace components, had acquired the assets and intellectual property of Reliant Motors, as a going concern, for £250,000 (funded by a share issue, an overdraft of £150,000 and a scheme of invoice discounting with London Finance). At the same time, the property assets - the former bus garage at Two Gates, was purchased by Smith Brothers for £275,000, and leased back to Avonex - whose directors were identified as Peter Hall and David Heaton.
Hall and Heaton had to complete and sell the work-in-process cars to raise finance from the invoice discounting scheme, but to do that they had to build engines, and the engine line was in Tipton and under threat. So the first task was to return the (now) decrepit engine line to Tamworth before vehicle assembly could re- commence. There were some back orders to fulfil, from loyal customers and dealers that had not yet cancelled, but with the passing of time there was no real certainty that the order book, the dealers or the customers could be relied upon for any length of time.
With the collapse of Reliant becoming a routine affair, Peter Hall accepted an offer from the Business Advice Centre of the Staffordshire Development Association (SDA) to identify the keys areas needing immediate attention, and which elements of the product range should be retained and/or developed. It was agreed that apart from quality improvements to the 3-wheeler vehicles, the development work currently in hand (from the Beans Industries ownership) for electric drive, fuel injection, commercial derivatives and potential power train sales should continue. It was also proposed that the development of a 4-wheel range, again already underway, should also be considered. To this end, the authors of the SDA report proposed that the services of two or three graduate engineers from Warwick University's Automobile Engineering Faculty could be arranged. Under SERC's Teaching Company Scheme, the cost of this engineering support would be eligible for 70% funding support.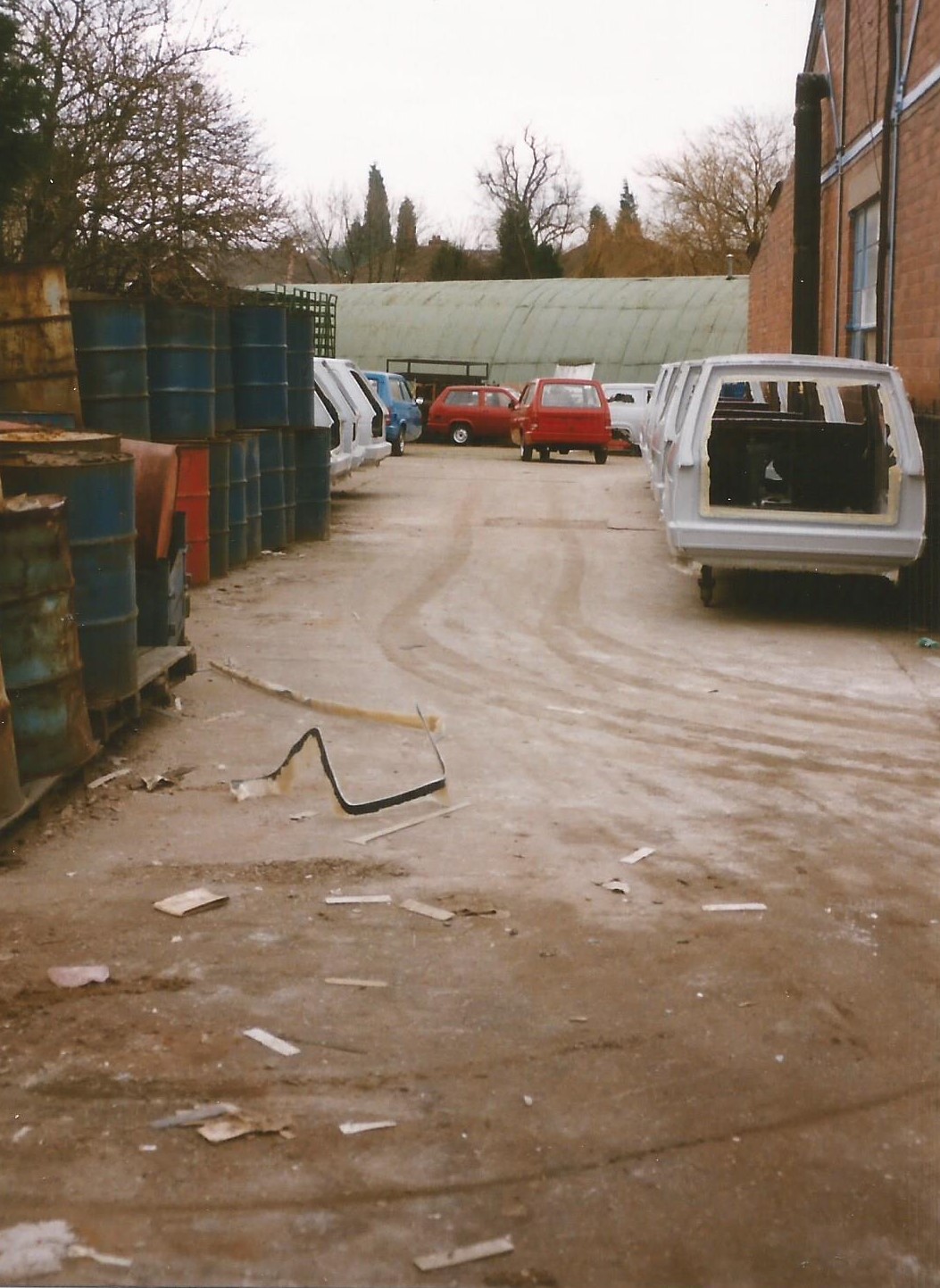 Not surprisingly, production was slow to re-start, with just three vehicles being shipped in January and February of 1995, although output rose to about 10-15 per week by May, by which time start-up costs and losses amounted to ab alarming £400,000. Reliant Motors, under the new management of Avonex was yet again in immediate and terminal trouble. In desperation, the directors decided it was time to turn Reliant know-how and goodwill into cash….
Reliant was no stranger to licensing its know-how around the world, and had sold projects and vehicles in knock down form since the early 1950's, and interest had been shown during the previous receiverships from the Indian sub-continent to acquire manufacturing rights. By the early summer of 1995 Peter Hall was in discussion with principals interested in licensing manufacturing rights in Pakistan. By August, Heads of Agreement had actually been drawn up, but time ran out and no deal was struck, and as a result and despite reaching a break-even production rate of 88 vehicles in November, the Company was simply overwhelmed by the task and by the year's end had run out of money…….
And so by the end of 1995, Peter Hall put Reliant Motors into administration one more time. Joint administrators, Paul Finn and Kevin Murphy were not impressed "the losses inevitably had an adverse effect on the company's reserves and, following unsuccessful attempts to raise additional capital, the director decided in December 1995 to seek the protection of a formal insolvency regime, which he did on 22nd December 1995".
xxxxxxxxxxxxxxxxxxxxxxxxxxxxxxxxxxxxxx
Finn and Murphy put their well-oiled machinery back into operation, and immediately offered for sale the business as a going concern. Within days Kevin Murphy was able to announce "Dealers are crying out for the car" – "So far we have had 50 enquiries for the company, some very serious"
Despite Murphy's enthusiasm, this sudden and perhaps unlikely show of interest came too late for the bulk of the workforce, and 95 people were sacked, leaving just 12 employees and 80 cars in production. Shortly the remainder of the staff were let go, all attempts are at production ceased, and the factory gates closed, in the view of most for the last time. The stage was now set for the next episode in the Reliant story…………..
In due course Finn and Murphy had whittled down the 50 enquiries to four "serious" offers for the business, as outlined at the creditors meeting on 21st March 1996 – an attempt to re-acquire the business by Peter Hall, on the basis of a Creditors Voluntary Arrangement (CVA), a bid from the owners of the Two Gates premises, Smith Brothers, and proposals from Jonathan Heynes and San Locomotive (who had already acquired intellectual rights to manufacture the Reliant 850 engine in India). Negotiations for the disposal of the business dragged on, with the inevitable result that the workforce found itself new employment, dealers looked for new franchises, and the factory, machinery and production moulds continued to deteriorate over the following winter months.
The CVA proposal from Peter Hall eventually came to nothing, and an agreement was reached with Finn Associates for Heynes and San Locomotive to acquire the business on a 50/50 basis. However, just days before the completion of the sale, an offer was received from Kevin Leech of Glen Investments, who wanted to buy Reliant and separately acquire the Fletcher Boat business (from Hornby) and rationalise both companies at Fletcher's site at Burntwood at Cannock Chase.
In the end Kevin Leech joined with Heynes and Burton West Ltd (acting for San Locomotive) to bid £450,000 for the (remaining) assets and goodwill of Reliant Motors split three ways, in March 1996, a bid that was accepted. A further deal was negotiated with Smith Brothers for a new 5-year lease on the Two Gates factory at £80,000 per annum, which included an important two year break/option to purchase clause.
Jonathan Heynes, the son of the legendary William (Bill) Heynes of Jaguar fame, had also worked for Jaguar Cars, and had been seconded to Jensen Motors to assist with the development of the Jensen Healey. He maintained a great enthusiasm for British cars, the British motor industry, and in particular British sports cars. On the death of his father he had inherited the family farm and was now a gentleman farmer, but saw in the collapse of Reliant the possibility to build a British sports car. However, he had no interest in getting into the sports boat business.
Kevin Leech was a colourful and somewhat suspect businessman and entrepreneur who had made one fortune in funeral parlours and a second in biotechnology. Keen to expand his eclectic portfolio, he continued with his plan to acquire Fletcher Boats in Cannock (from Hornby), with a view to combining Reliant and Fletcher at a later date.
San Locomotive, a manufacturer of plant and machine tools from Bangalore, for its part wanted to acquire the Reliant technology, (such as it was) to build a range of three wheeler vehicles in India for sale in developing markets. In the longer term they hoped to be able to manufacture Reliant parts more cheaply in India for shipment back to the UK. San also had no interest in expanding into the plastic boat business, or into sports cars or other 4-wheel derivatives.
So it was clear from the outset that Reliant's new owners each had quite distinct, and in general, mutually exclusive objectives, but it was agreed that day-to-day management was to be in the hands of one man, Jonathan Heynes. The interests of San were to be handled locally by Burton West Ltd, (an offshore subsidiary of San Locomotive) and Kevin Leech relied on Alan Sutton from Glen Investments, to be his "eyes and ears"
Although it was agreed that additional working capital could be called from all three shareholders, it was clear that the "sleeping" partners were expecting Heynes to fund working capital from the completion and sale of vehicles and spare parts. This was, of course, exactly the same situation as in the previous cycles of failure at Reliant. The omens were not good.
xxxxxxxxxxxxxxxxxxxxxxxxxxxxxxxxxxxxxxxxxxxxxxxxxxxxxx
It was also very clear that Heynes would have to hit the ground running, and he managed somehow to lure several key former employees, including Maurice Green (Works Director), Brian Benton (Production Superintendent) Alan Hunt (Machine Shop foreman), Roger Deane (IT and Administration), Mick Hilton (Service Manager), Sid Gray (Car Production foreman) and many more stalwarts, but there was no doubt he had a mountain to climb. Suppliers of bought-in components, who by now had lost money on several occasions, declined to resume business, insisted on pro-forma terms, or in some cases refused to enter into new arrangements until old debts had been re-paid.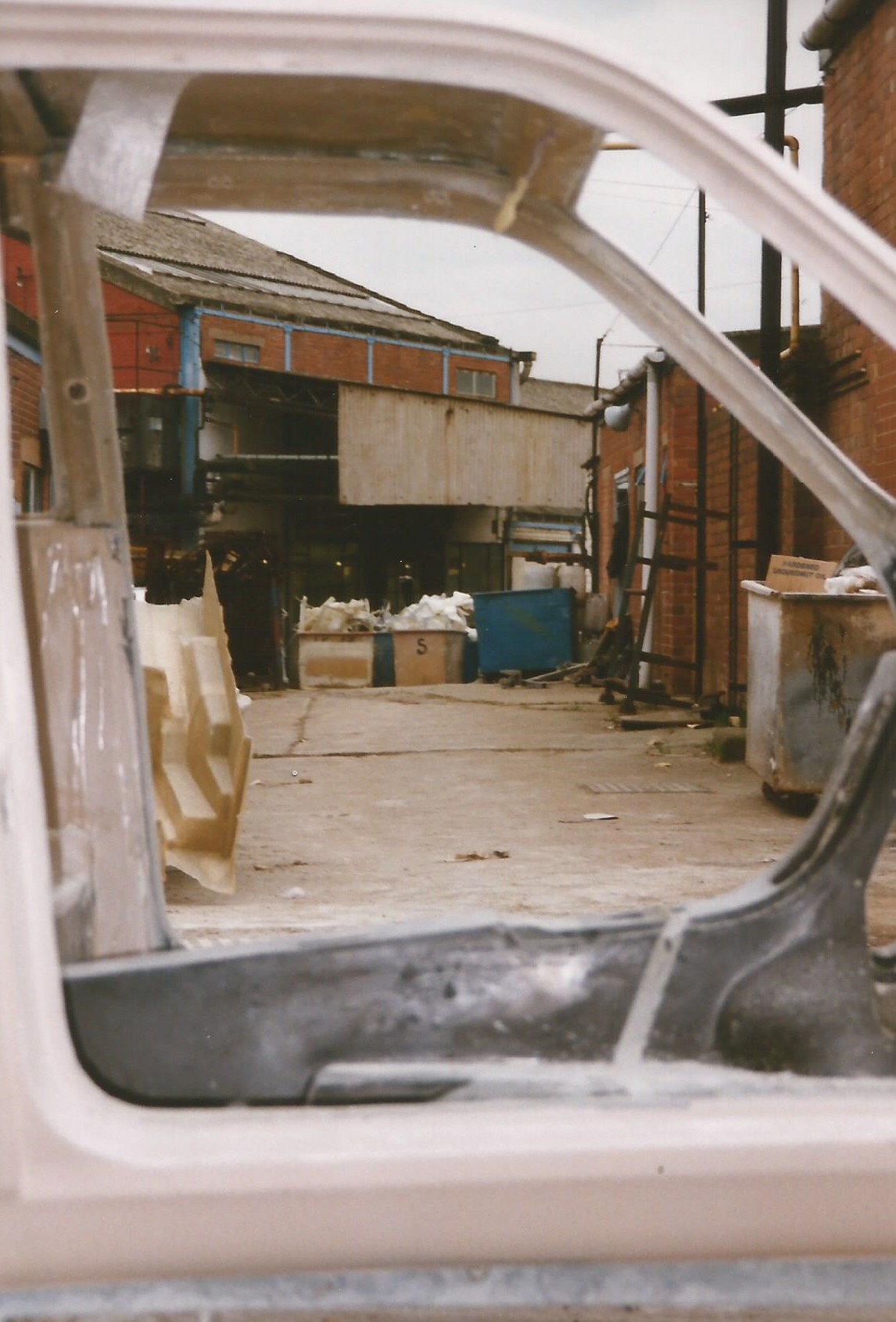 The manufacturing tooling and body moulds were all in a very poor state of repair, not improved by several more idle months. Remarkably, Reliant still planned to produce in-house not only the chassis and body components but the all-aluminium 850cc engine, the 4-speed gearbox and live rear axle, only castings being bought-in. But the ability to complete engine build in-house was thwarted by a crank-shaft grinder now found to be hopelessly beyond repair, and by the refusal/inability of the foundry to supply cylinder block and head castings – the manufacturing tools had somehow been sold off to a third party during the receivership process! Court action followed to void the sale, which cost Reliant a lot of money and forced the casting supplier into liquidation. Reliant's final re-start was on its knees……………..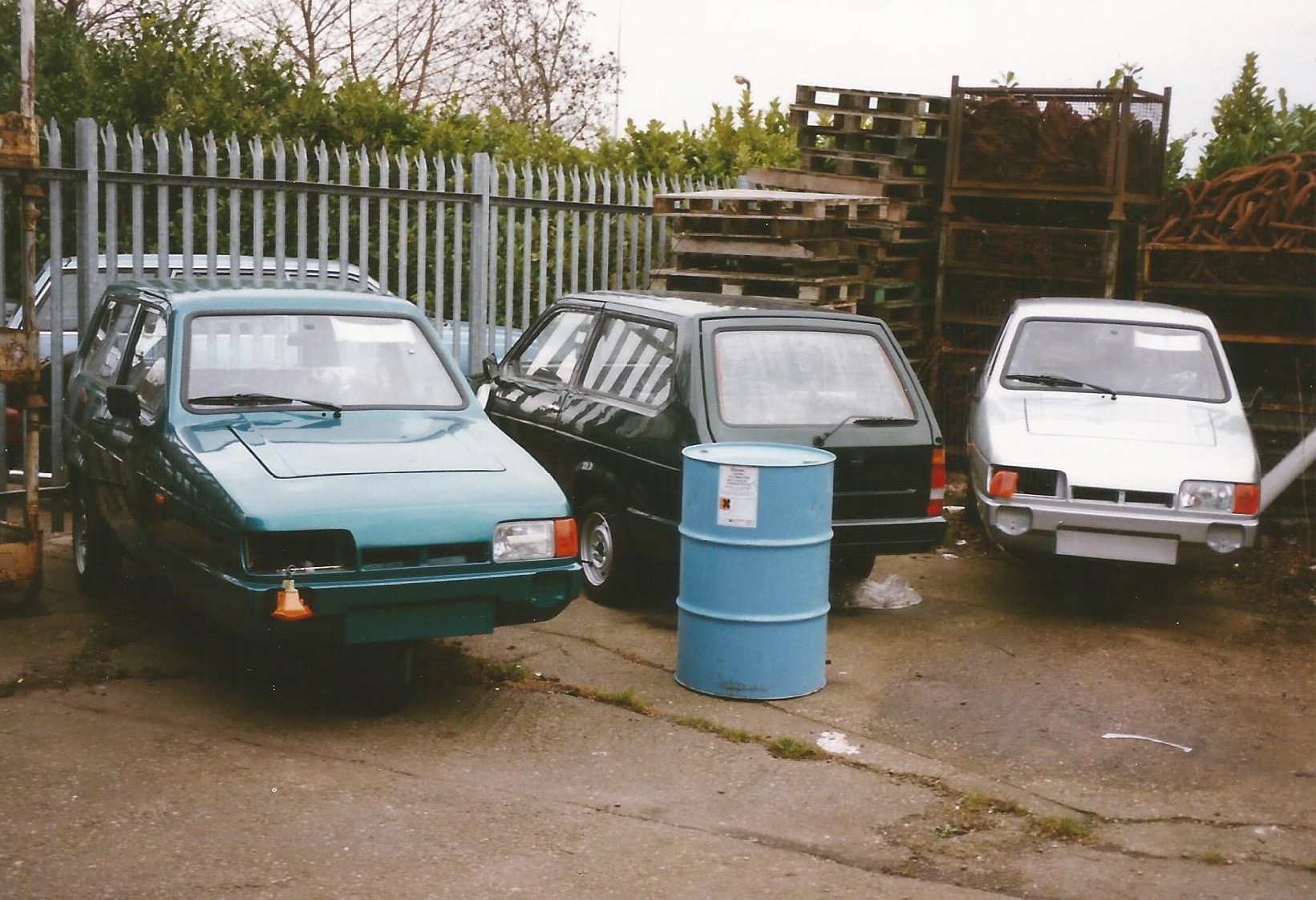 But on the credit side Heynes had an order book of sorts, not only for spares but for back orders for complete cars from customers still keen to own a new Reliant Robin. With no cash in the bank he set about a major campaign to turn parts into cash, and cannibalise work-in progress to make finished cars. There were 28 cars to be completed, but as a result of the Avonex invoice discounting arrangements they remained the property of London Finance, who agreed to sell them for £100,000 as a job lot.
Gradually production re-started although parts supply and quality issues were major headaches. And of course building more cars meant more working capital, and an inaccurate bill of materials reduced budgeted profit per vehicle into loss, and cash was drying up fast. Production was frequently halted as suppliers demanded cash on delivery. The programme to source major components from San Locomotive, was set in motion in an attempt to ease cash and improve parts supply.
At the same time, in amongst all these tribulations, Reliant/Jonathan Heynes were approached by BBC Television who proposed that the progress of the company be recorded as part of the popular 10-part "Trouble at the Top" business series. Jonathan Heynes was unsure about this distraction but finally agreed to go along with the proposal, which involved allowing a film crew complete access to the unfolding difficulties. There was a clue in the title of the series………………
https://www.youtube.com/watch?v=0dzlR5yM6rk - which aired at the end of 1996.
But amidst the chaos Jonathan Heynes was looking beyond 3-wheeler production, to establish a range of four-wheelers, believing that this was the key to the long-term future of the company. And there was also the thorny issue of emissions and homologation to resolve on three wheels and four. The UK's unique legislation for three wheeler vehicles – less than 8cwt (400kg) – had so far allowed them to fly under the radar of exhaust emissions, but with motorcycles now falling under emission regulations, the 850cc engine would have to comply, and it was already on borrowed time.
In the years since the 1991 collapse of the business, EU requirements for vehicle certification and homologation had moved on; the UK Vehicle Certification Agency (VCA) had long since lost interest in Reliant, but under new, well-advertised and potentially successful ownership, started to take notice again…………….
The previous owners of the Company had all been aware of these technical problems, and had made a start on them, but had made little headway. However, the offer of technical assistance from the University of Warwick organised by Peter Hall in the brief Avonex period was, perhaps surprisingly, still open, and Heynes was able rapidly to set up an engineering department to run in parallel with the on-going difficulties involved in re-establishing car production. The Robin was also in desperate need of a facelift, and the production moulds that had been patched up to keep them going for years were in very poor condition.
For a while this engineering team* promised to punch well above its weight, and in addition to this essential work on emissions, Type Approval and Homologation, had access to the projects carried over from the previous regimes. The Scimitar Sabre which Beans had developed to replace the Scimitar SS1 had been much improved, with Rover K Series engines and was a possibility, but the project was shelved as too expensive. The three wheeler Bond Bug had been updated as the Reliant "Sprint", but that was also abandoned. A pick-up version of the three wheeler Robin had been by completed, at least as a prototype, and was added to list of new developments which included, apart from the Robin face-lift, a mobile canteen, the resurrection of a 4 wheel Bond Bug, an electric Robin, a diesel Robin, a roofless Bug (Reliant Atom) a, Kitten 4 wheeler, and a long wheelbase chassis cab – the list was almost endless……………..**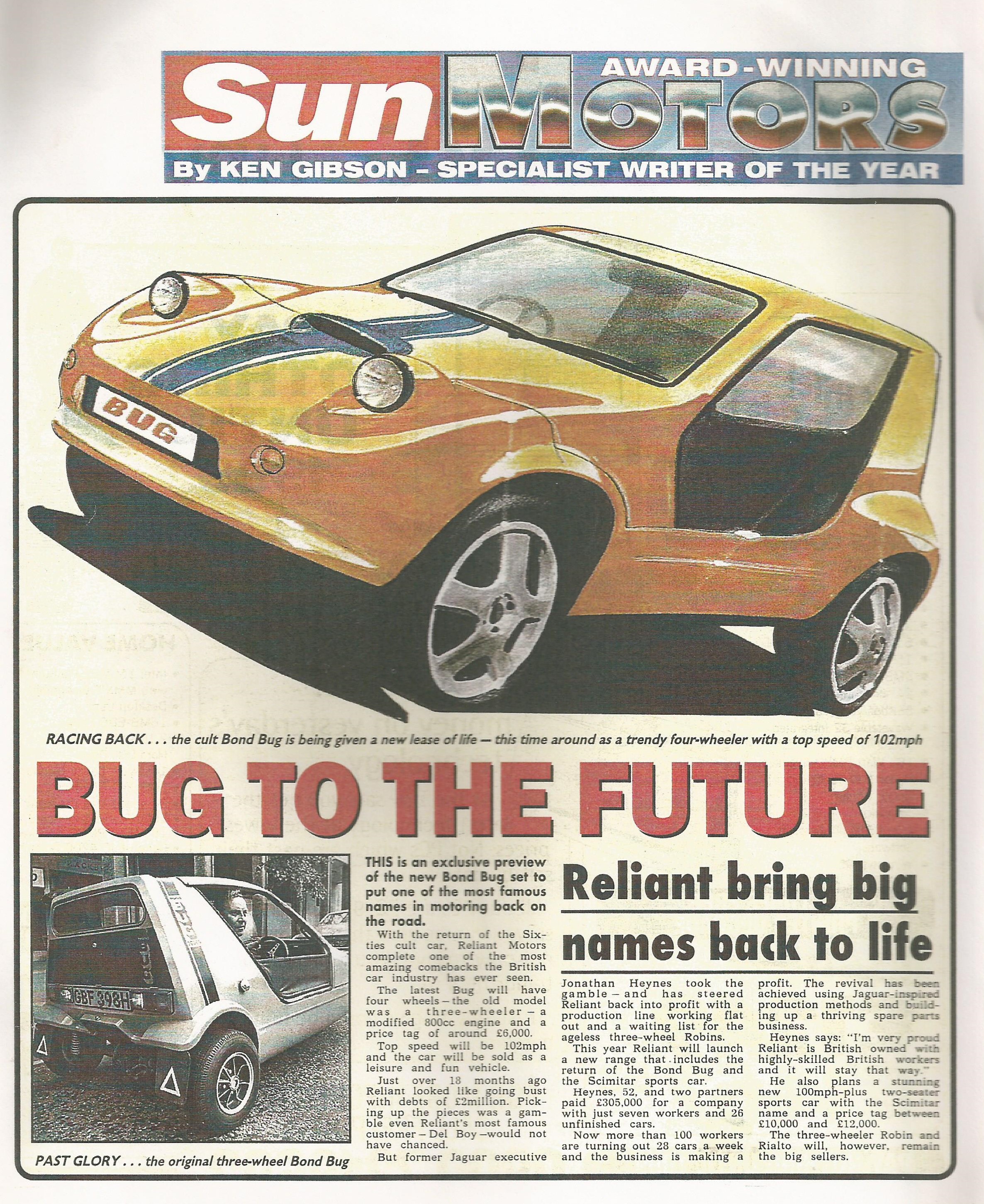 By the end of 1996 and into 1997, output of the Robin improved but with continuing concerns about build quality, and the inevitable conflict between the shareholders was becoming increasingly apparent.
San Locomotive was expanding it horizons and had been working with a French design team to manufacture in India a simple family saloon (and convertible derivative), using GRP construction, based on Renault mechanicals to be called the San Storm. San was becoming exasperated with progress at Reliant in terms of component supply for the Robin, but saw the opportunity to sell Reliant-badged, Indian-built San Storm models into the UK, using the existing dealer network. Interest in Heynes' in-house 4-wheel developments was waning amidst concerns over the mounting costs, delays to Indian parts supply, and to the Robin facelift programme.
Glen Investments were similarly becoming disenchanted with Heynes' priorities and matters came to head at the end of 1997, and when he was summarily instructed by his fellow shareholders to halt all non 3-wheeler development, and concentrate on the issues of quality, fuel injection, diesel, electric power and the Robin facelift.
Meanwhile Leech and Glen Investments were insisting on a full move of Reliant to the Fletcher Boat factory at Burntwood. This would eliminate the rent payable on the Two Gates factory, but Leech insisted that Reliant pay rent to Fletcher in its place. Since the boat business was owned solely by Glen Investments, this arrangement would therefore diminish the position of both Heynes' and San Locomotive and was not popular.
Despite all this, and in a mood of defiance, Heynes announced at a dealer conference in February 1998 the go-ahead for the San Storm and San Streak to be shown in October 1998, and on-sale in January 1999. However, at the same time he also announced that the 4-wheel Bond Bug would be on-sale in June 1998, and a new lightweight sports car, reviving the Scimitar name would be on-show at the NEC Motor Show in October……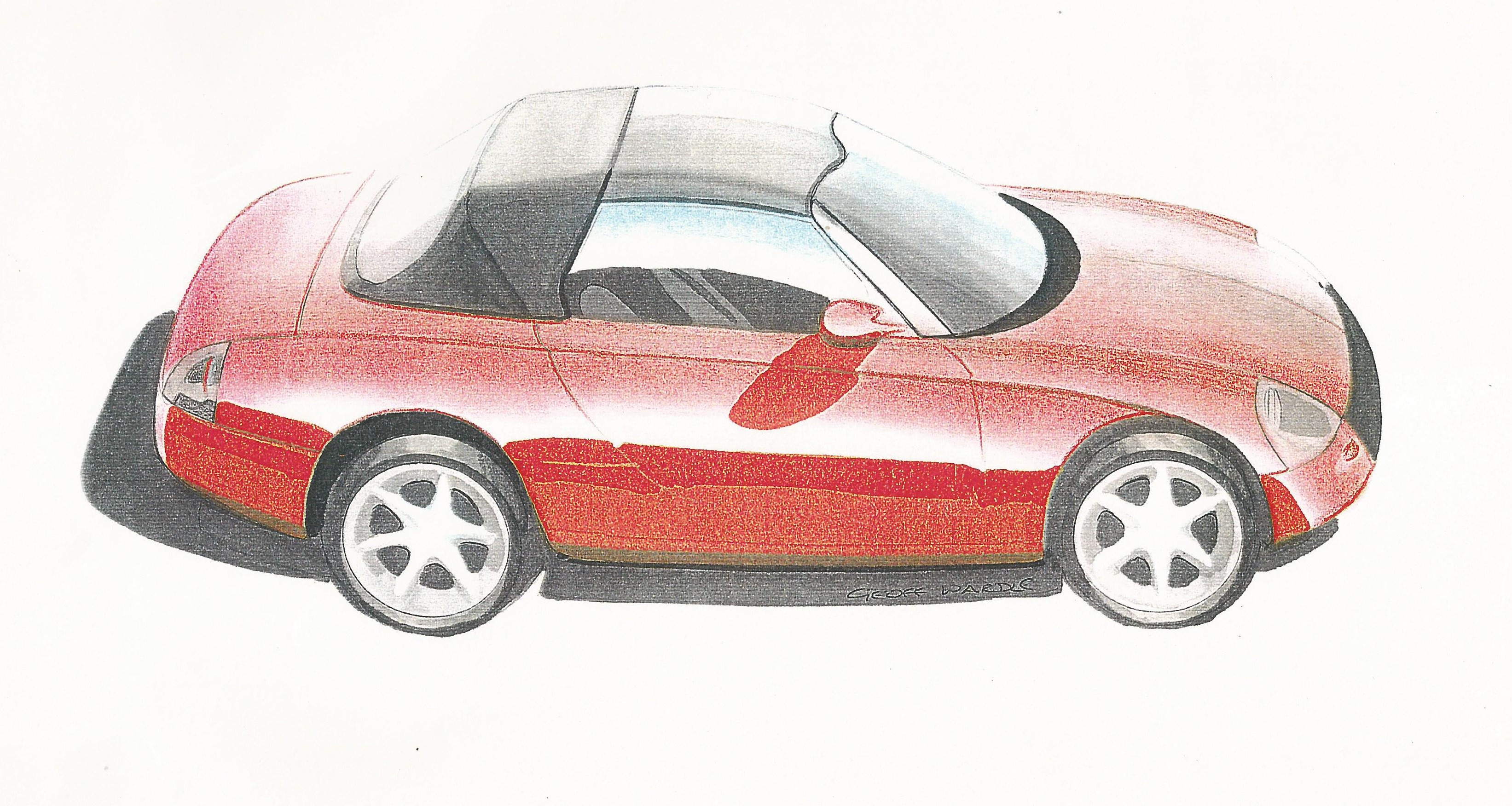 This was the beginning of the end for Jonathan Heynes' brief tenure at Reliant. San Locomotive pulled out and subsequently sold its shareholding to Glen Investments. Now a with a majority stake, Leech moved rapidly to stabilise 3-wheeler production, complete the Robin facelift and transfer production to Burntwood. Jonathan Heynes was put on extended leave, and long-time Reliant and TVR man Stuart Halstead was recruited in his place. (Heynes subsequently recovered his shares and investment from Leech)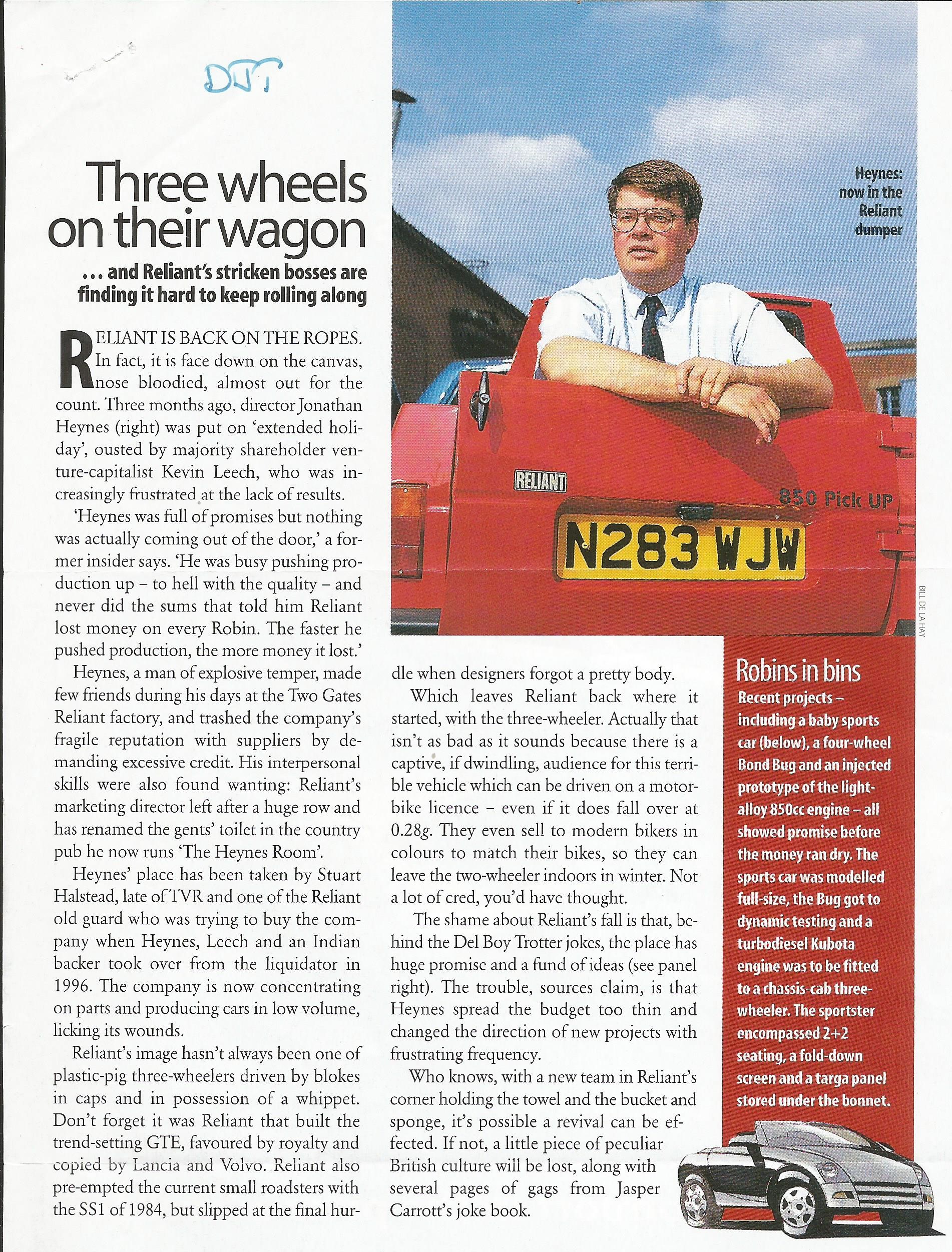 The transfer of Reliant to a new factory at the premises of Fletcher Boats was completed in December 1998, and the Tamworth factory was closed for the last time in January 1999, and subsequently sold off for development as a housing estate.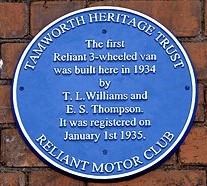 Stylist Andy Plumb's new Robin Mk III, developed at Burntwood, was launched in March 1999, but sales continued to decline; to make matters worse, the Vehicle Certification Authority had spotted the launch of the new Mk III Robin, and resumed its interrogation of the company in respect of Type Approval and Certificate of Conformity, neither of which were current. The VCA issued an ultimatum – complete the work required for certification or cease production. Reliant had no option but to stop the manufacture and sale of the infamous Robin.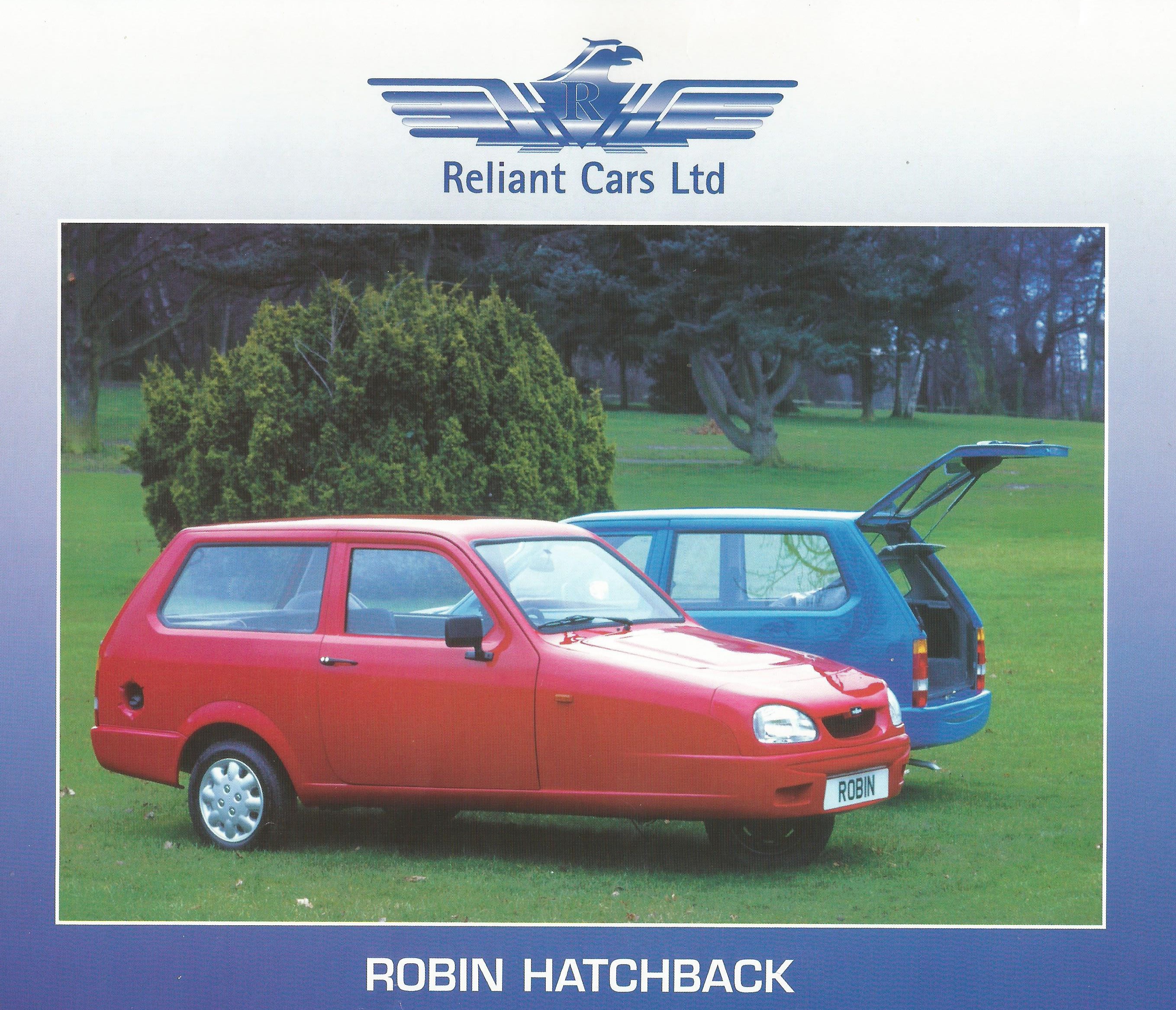 On 26th September 2000, still under Leech ownership, Reliant announced that December would mark the last Robin to be manufactured, to make way for the manufacture of "a totally new four-wheeled vehicle that will be previewed at the NEC Motor Show in October 2000"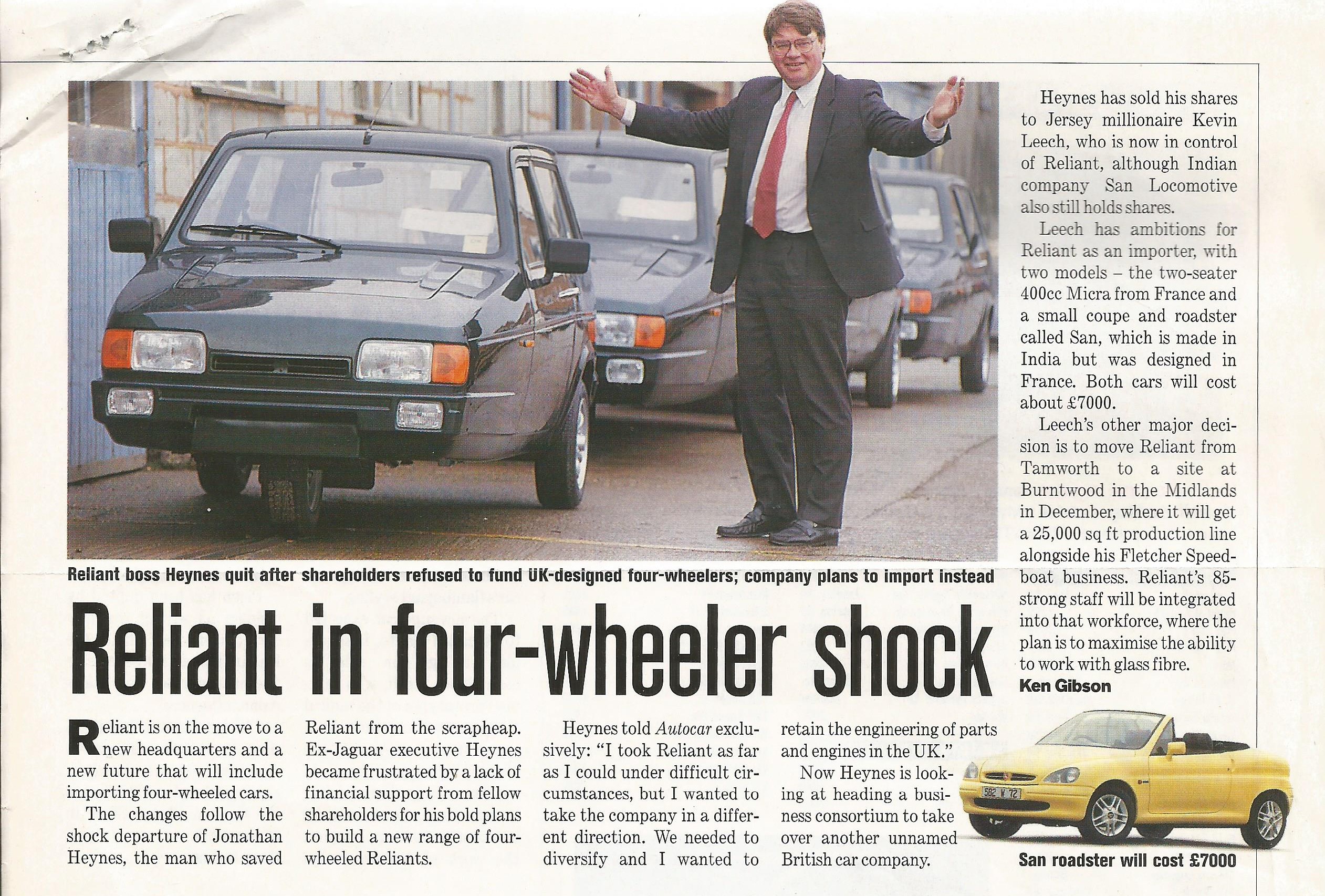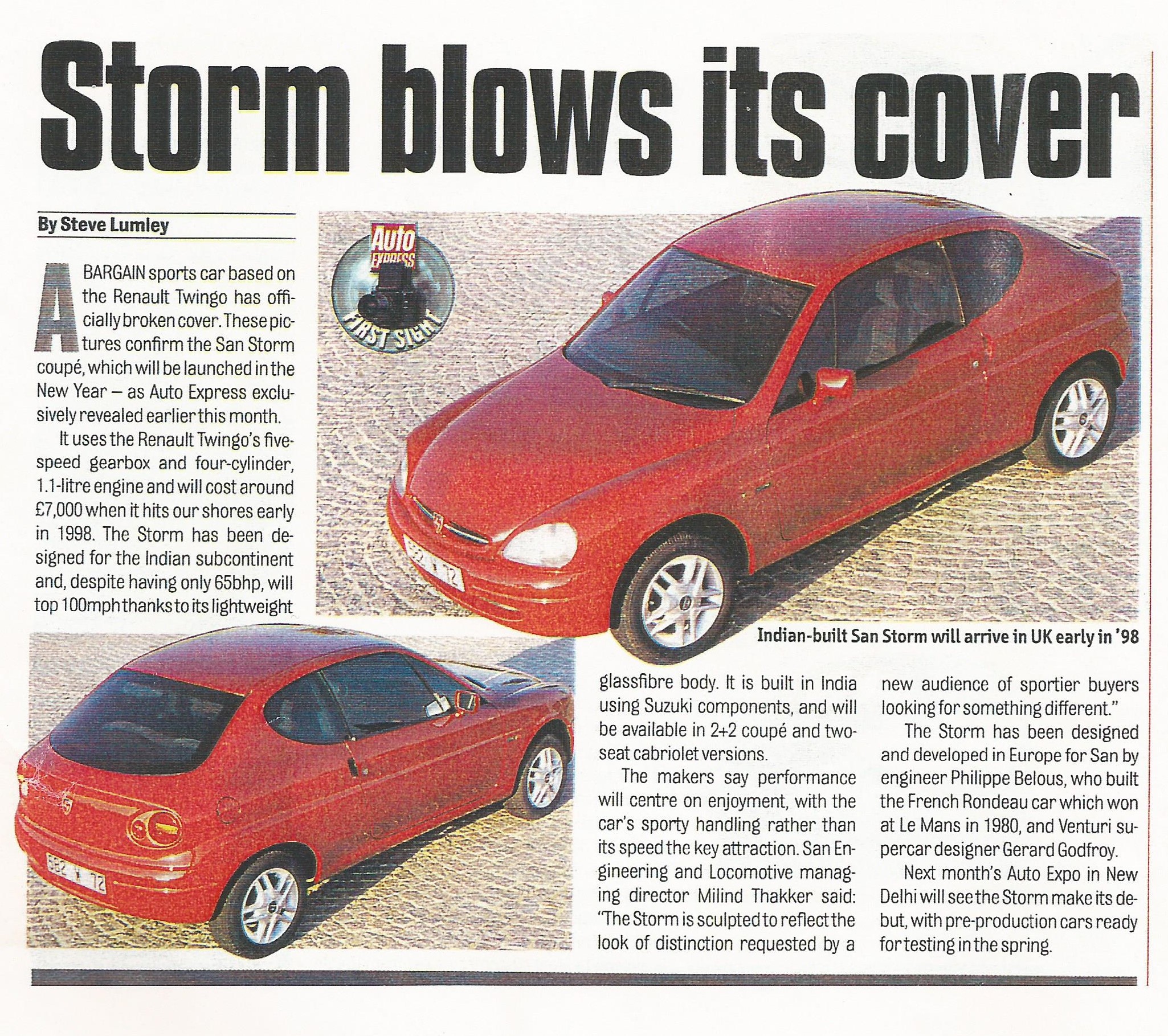 The new 4-wheel vehicle never materialised at the NEC. On show was a small range of Piaggio 3-wheelers……………………..
However, the Reliant Robin was not quite finished. In the belief that there was still a market, B&N Plastics approached Reliant to acquire the rights to the Robin Mk III. Reliant probably could not believe its luck and promptly cashed B&N's cheque for £25,000. B&N contracted Reliant to produce 5 component sets per week to be shipped to Suffolk for assembly. B&N took the opportunity to incorporate some changes and improvements, the first prototype was completed in June 2001, and the Robin BN-1 was officially launched on 12th July 2001.
There was considerable media interest, possibly ironic, and like Beans, Avonex and Heynes before them, B&N found themselves with orders for over 100 vehicles. However the same media interest prompted a phone call from the VCA. B&N had failed to check the certification status of the car, and Reliant had probably been economical with the truth. B&N closed down in October 2002, ironically having completed certification to the satisfaction of the VCA, but having run out of money in the process, after the production of 18 new 3-wheeler Robins.
The Reliant Robin story was finally over………………
xxxxxxxxxxxxxxxxxxxxxxxxxxxxx
It was not yet over, however, for the flamboyant and enigmatic Kevin Leech. Despite the slow-down of Reliant and Fletcher Boats International, in the spring of 2000 Leech was ranked 17th on the UK rich list, with an estimated fortune of £1.2bn. But most of this wealth was from inflated value from internet ventures, and the dot.com crash was to be his undoing, and in October 2002, Jersey's first billionaire was declared "en desastre" by the island's Royal Court. His eclectic portfolio of investment had collapsed, including, of course Reliant Cars and Fletcher Boats International.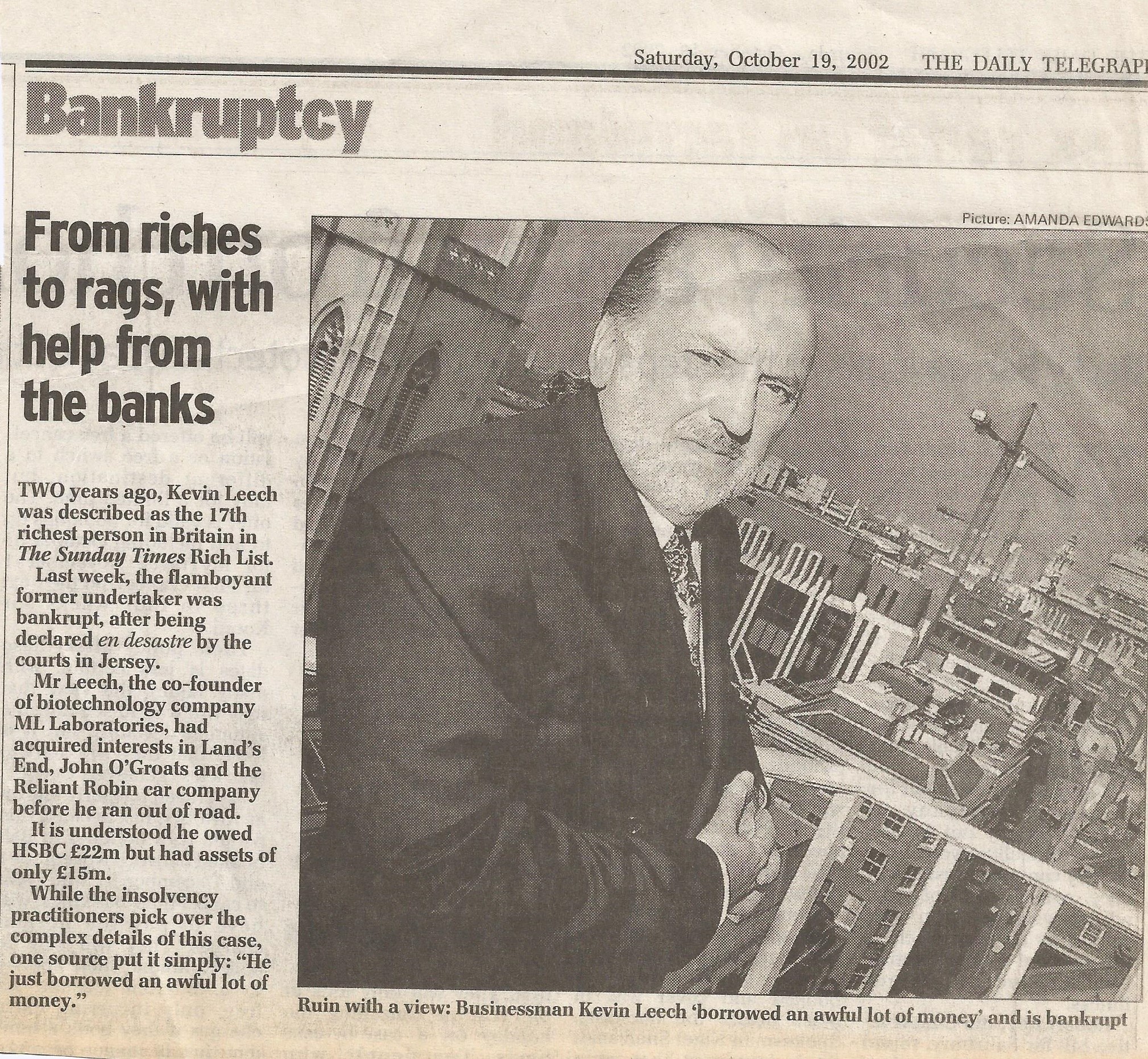 Two years later Leech reached a settlement with his creditors, and re-appeared. On 26th December the Guardian quoted him - "I've been through a tough time and a shock to the system… I was hiding. I'm coming out of my shell now", As far as business goes, I'm picking up the pieces. I intend to work again – that's all I have ever done in life" – "I don't want to retire on a bad note, I want to be a useful member of society. I have some ideas, mainly in the high technology field, and soon I'll be getting back on the road". In the meantime, according to the Guardian, he was devoting himself to raising funds for Hands Around the World in Zambia. "We may not have heard the last of Kevin Leech" reported the paper.
Leech re-emerged as a public figure in 2009, now as a major shareholder in the collapsed investment bank, First London. Fellow shareholders, upset by the way their investment had disintegrated started to track Leech down, to be told by his lawyers in Jersey that he had "moved east". In 2010 a Leech company, Sunmin Resources was attempting to raise £5m, promising investors "that every £1 invested will be worth £10" by the time the company floated in Hong Kong three months later.
According to the Leech sales pitch "Sunmin currently owns rights to mine all precious metals, rare earth elements, rare earth elements and transition metals in five specific provinces of North Korea"……..
And finally:
A headline in the Guardian dated Friday 20th April 2012 reads:
Kevin Leech, who became a dotcom billionaire - "vanishes in North Korea"………………..
xxxxxxxxxxxxxxxxxxxxxxxxxxxxxxxxxxxxxxxxxxxxxxxxxxxxxxxx
*The engineering team consisted of, amongst others, Tim Bishop, David Huggins, Mirek Staron, Brian Cherrington, Bob Cooper, and Andy Plumb. David Tearle was drafted in from Ginetta Cars to provide project engineering support and strategic advice to Jonathan Heynes. Tim Bishop was brought in to develop a fuel injection system for the 850 engine, and to work on a new super lightweight Sports car designed by Geoff Wardle. – Jonathan Heynes had even unearthed the one surviving twin cam version of the 850 engine that had been developed by BRM!
**For the record, the list of projects underway during the Heynes regime, although not endless included:
TW981 - Robin 98MY update
TW972 – Robin 98MY pick-up
TW973 – Robin Chassis Cab
TW2000 – 2000 MY Robin replacement
FW9 – 4-wheel Bond Bug
FW9D – Diesel Bug
FW988 – 850 ohc sports car
FW9E – Electric EV Bug
FW10 – Kitten update and commercial derivatives
FWLW – Ultra Light Sports Car
UTAH – Electric powertrain – Robin EV
RME1 – 850 engine EFI emissions program
RME2 – Diesel engine
RME3 – 850 ohc engine – India
RME4 – 850 supercharger installation
RME5 – 5-speed proprietary gearbox
RME? – alternative gasoline power unit
LE MANS – San Storm imported coupe
NOTES AND SOURCES
Report prepared for Reliant/Avonex by T H Taylor of the Staffordshire Development Association, 28.2.1995
Case Study, Finance Midlands, March/April 1995 "Robin Reliant", Mark Hopton, KPMG
Notes of Avonex creditors meeting, 21.3.1996
BBC 2 "Trouble at the Top" December 1996
https://www.youtube.com/watch?v=0dzlR5yM6rk
Birmingham Post, 24.9.1998 "Reliant back on the Road to Success"
Management Today, 01.2.1992 "Kevin Leech's Life after Death"
Daily Mail, 0.7.2000 "Leech loses millions in crash"
Daily Telegraph, 13.10.2002, "2000 Kevin Leech crowned Jersey's first billionaire, with a fortune of £1.2bn – 2002 declared bankrupt"
The Guardian. 26.12.2004, "The Fall and Rise of Kevin Leech"
The Guardian, 20.4.2012, "Kevin Leech became a dot.com billionaire "vanishes in North Korea"
Author's own notes from 1996 to 1998.................
……..and last but not least the excellent history "The Reliant Motor Company", Elvis Payne, Crecy Publishing Ltd, 2016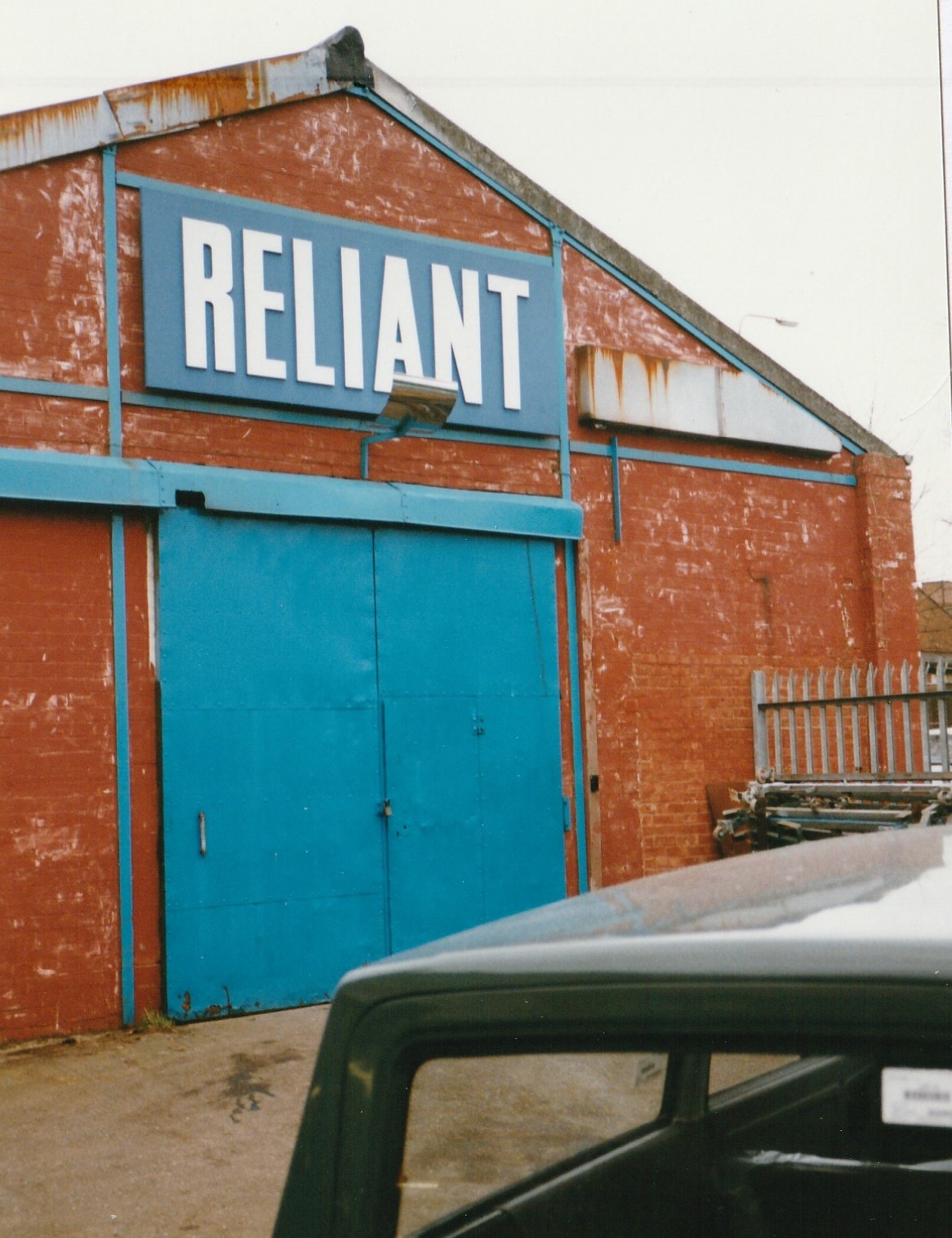 Back to "Articles and Features".....................
All Rights Reserved © David Tearle 2023