GINETTA G40 GTR

When Ginetta Cars went into receivership in 1992, it had already been decided to concentrate on the G33 model. Although it had been put into production too hastily, most of the bugs had been ironed out by this time. On the stand at the Motorshow in 1992 were the longer wheelbase SC V8, and the entry level 4-cylinder Club. The 2 litre Cosworth engine was now an option as well.
After the company was acquired from the administrators in January 1993, there was clearly a demand for the lightweight and economically priced G33, but the new investors did not have access to the capital or resources to put it back into series production as a Type Approved car.
The tantalising prospect of selling the car in US-badged as an Oldsmobile – as the Rocket 44 – failed to materialise, as did a deal to manufacture the car in Sweden as the G34.
Ginetta was now surviving on the sale of G27 kits and parts, and was rapidly becoming a one-man-band. The G27 was improved and re-engineered as the G44, to be sold as a complete car with Low Volume Type approval, but this project was stalled by lack of cash, although the revised body provided the basis for continuing kit sales.
The idea of a one-make race series was certainly not new in 1995 (TVR, Caterham, Rover), but turning the humble G27 into a rugged and very affordable racer was inspired – inspired that is by Martin Phaff, Marcus Pye, Mark Hales, amongst others. Complete cars offered much greater added value than kits, did not require Type Approval and did not need warranties, at least in the conventional sense.
The G27, and before it the classic G4 had been used in competition for many years, and there was a body of knowledge, particularly with Duncan Campbell at the factory that enabled the production of a reliable and rugged racing sports car at a budget cost.
The technical specification of the car was settled on the (sealed) Ford Zetec 1.8 twin cam (ex Mondeo), on Weber carburettors (rather than fuel injection), a Ford based Trannex gearbox and Escort rear axle. Permitted modifications were strictly limited and a common (and interchangeable) ECU was used. The resulting 150bhp in a car weighing less than 800kg provided an effective package, which was aimed at the amateur weekend racers who were thought to be the target market. The price of the car included race entries, race overalls, hospitality and trackside support. The BARC were supportive from the start and offered to include the fledging series in the National GT racing support package with the added potential of TV coverage.
A prototype was built and the new series was announced in the press. Test days were arranged for interested parties at the end of 1995, and as a result a few firm orders were taken. There followed an anxious few months spent trying to square the circle of sufficient orders to make a grid against the cash and resources to build the cars. The nightmare scenario was just too few orders and no race series and customers demanding their money back. But the first Championship race took place at Castle Combe with 16 cars on the grid. Martin Phaff had made it!
As part of the series promotion it had always been intended that a spare "works" car would be available for motoring journalists, most of whom had a point to prove! Over time the "press" car became a "celebrity" car, which had a real impact on the awareness of the Ginetta Championship.
The success of the race series sadly did not reflect on the profitability of the company, but its image was changing, and it was now perceived as a race car company rather than a kit-car company. Motorsport had boosted the Company in the Sixties with the G4, G12 and G16 and single seaters, so maybe history was repeating itself.
Several opportunities now presented themselves, from within and outside the Company. The G33 which was no longer in production, had been built in reasonable quantities since 1991 and 1994, and close scrutiny of the chassis book showed that the milestone 100 units required for UK Homologation had been achieved…………. The G33 was now qualified for UK GT racing and a Cosworth turbo powered prototype was built up by Richard Issitt at our business, Motorsport Classics in Corby.
With a foot in the GT racing door, the possibility of using Ginetta's new-found status to support a bid to the higher echelons of GT1 and possibly beyond presented itself. All that was required was the right car and some serious funding.
At the end of 1996, Martin Phaff was contacted by Brian Horner (formally publicist for TVR) who was aware of a project, now in Bolton, Lancashire, that could be form the basis of a GT1 project under the Ginetta brand. Under a cloak of secrecy we were taken to a run-down (scruffy!) factory which amongst other things contained what we were later to realise was the remains of the Jakspeed/Maxum IMSA prototype created by Paul Brown. There appeared to be considerable doubt about the provenance and ownership of the project, which consisted of drawings, tools, moulds, fixtures, fittings and two more or less complete carbon fibre tubs, sub-frames and suspension components. The car had been engineered for the 4.6 litre 32-valve V8 Ford Mustang Cobra engine. The asking price was £33,000.
We had a car, now we needed some serious sponsorship. Another of Martin Phaff's contacts drew Andrew Bramley into the frame. Andrew was the son of noted chef Tessa Bramley and had aspirations for a career in International GT racing. He was also well connected and Martin Phaff, Andrew Bramley and I (David Tearle) drew up a scheme to offer shares in a UK bid to contest GT1 and beyond to Le Mans as the Ginetta G40 GTR.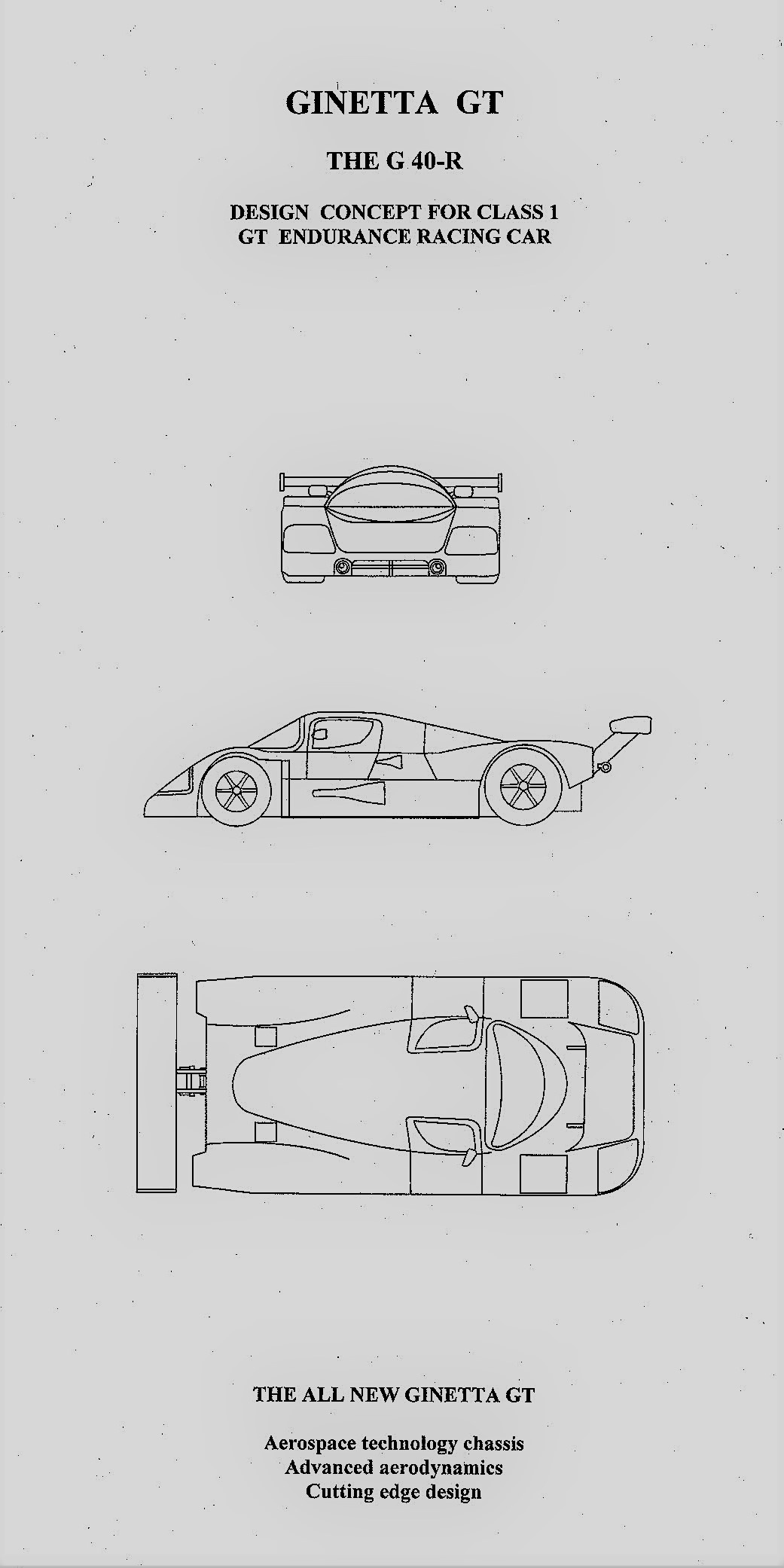 Initial calculations suggested that a budget of £150,000 would be needed to turn the "Bolton" project into a raceable prototype. Ginetta was prepared to put up £50,000 (i.e. to acquire the project and source missing components). £100,000 was apparently available from other potential motorsport investors, although there was considerable doubt about their ability to actually generate such funding.

And perhaps not surprisingly,In the end this investment did not materialise,
Andrew Bramley already had form in GT racing and saw this project as an opportunity to take his career into the upper levels of GT racing, and he took it upon himself to create a lavish proposal to create sufficient sponsorship to build and develop a prototype that could run in the BRDC Privilege Insurance GT Championship proposed for the 1997 season, although the question of homologating a road car derivative was unresolved. Bramley was to offer a £40,000 "Corporate Exposure and Hospitality Package" which would allow corporate clients the opportunity to entertain up to 40 guests throughout the year. The comprehensive package included corporate exposure on the works Ginetta, race overalls and race transporter.
Meanwhile Ginetta assessed what would be involved in building the Maxum into a car that could be raced in GT racing – a difficult task as it was designed as GTP/Group C car, and producing a road going version for FIA homologation would be a major task. However there were some thinly disguised racers already in GT racing at the time…………….
Bramley's plan to raise funds made little progress, and he subsequently proposed that Ginetta acquire the rights to the Maxum and build the first car for his own team to race.
In January 1997 an agreement in principle was made with Denis Aldred at Motorsport Components to acquire the project plus any missing parts to enable the construction of one complete car, for £30,000 for delivery at the end of February 1997,
And at the same time it was agreed to create a new company, G-Tech Racing Ltd, with the objectives "of developing and racing a Ginetta GT at national and international levels on a works basis, and to sell and maintain customer versions", the directors proposed were Martin Phaff, David Tearle and Andrew Bramley.
By the spring of 1997, however, both parties were having second thoughts on the project. Andrew Bramley was clearly making plans for his 1997 season in GT2 racing, whilst complaining of lack of interest from Ginetta Cars. Ginetta now felt that the risk of the venture with Bramley was too great, that uncertainties of FIA homologation, and that the future of the GT1 series was also shaky. The G40 GTR was becoming a project too far, and like Ford before them Ginetta got cold feet and pulled out of the project.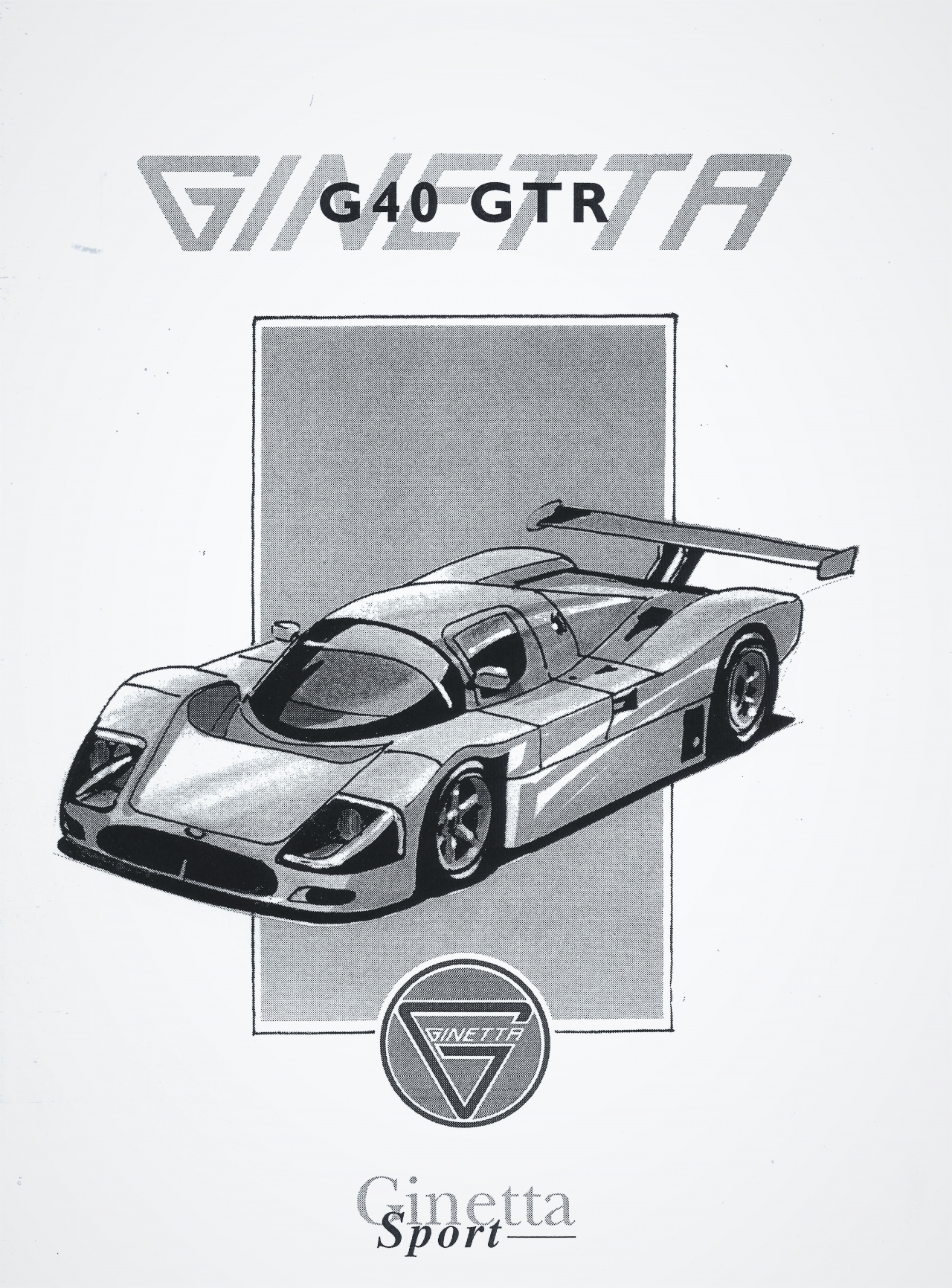 Little exists now of the Ginetta G40 GTR project, apart from Richard Ashby's fine drawings of the race car and its road going derivative.
Like the Rocket 44 three years earlier, the G40 GTR remains a footnote in (Ginetta) motorsport history.
Nothing ventured, nothing gained……..
Background to the Maxum GTP/Group C car
In the early eighties Ford of America had involved themselves in the US GTP race series with a heavily modified Mustang. It was not successful and was overwhelmed when customer Porsche 962 cars appeared .In 1984 Ford commissioned a new car from Zakspeed in Germany, to be designated the Ford Probe. Zakspeed recruited Paul Brown from Maurer Racing Cars to design the car around the 1.5 litre Ford turbo engine they were developing for F1, but stretched to 2.1 litres. Brown's brief was to allow also for the fitment of Ford V8, Cosworth V8 and others.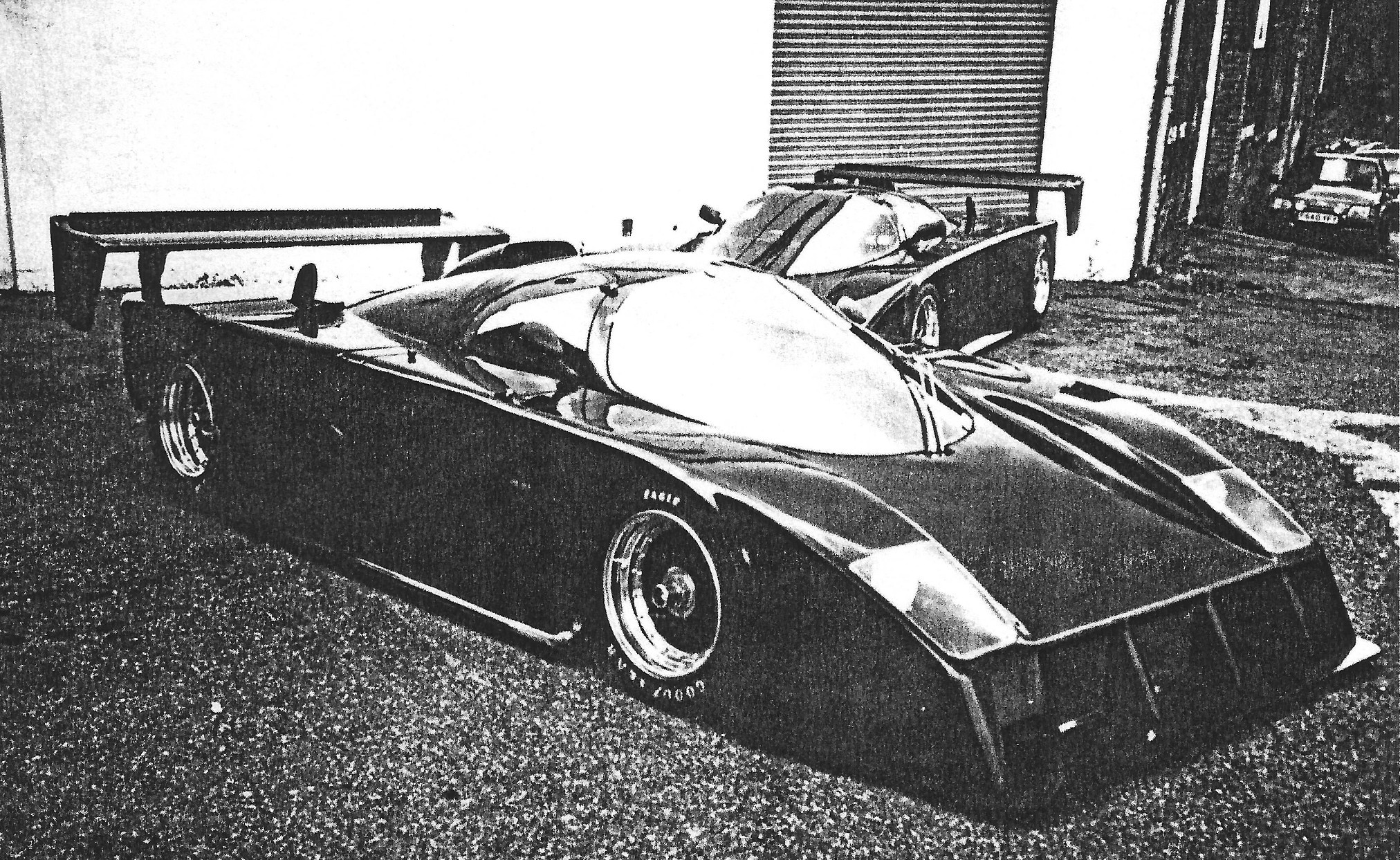 The first cars were assembled in Cologne and shipped to Livonia, Michigan, to be developed by Jack Roush Racing. The car was debuted at Laguna Seca in 1985, but was not a success, its only victory coming at Laguna Seca in 1986. Ford, by this time had had enough and withdrew from GTP, on less than satisfactory terms with Zakspeed. Plans for a Group C version for Le Mans were dropped at the same time.
Probably stung by all this, Zakspeed's US manager, Alan Smith, constructor Denis Aldred and designer Paul Brown, decided to build a slightly modified version of Probe (it would have been called Probe 2 if Ford had stayed in the game) as a low cost customer car, to be called Maxum, and financed by John Shearer. Denis Aldred had already supplied components for the Probe from "a scruffy worshop in Bolton", according to Brown.
There was some interest in the Maxum, but no orders until Jack Rousch rang to say that he had "unfinished business in GTP"……………….
Rousch's plan was to wait for the dust the settle at Zakspeed, then take the Maxum back to Ford as a Ford/Rousch entry in GTP. The first car was delivered Detroit in 1986, and entered the Daytona 24 hours, where it expired after 120 laps. By this time Zakspeed had threatened litigation, Ford got cold feet and pulled out for a second time, leaving Rousch disinclined to pay Maxum for the first car.
Paul Brown moved on to Reynard. Aldred continued as Motorsport Components in Bolton, where the remains of the troubled project remained for ten years, when in 1996 Brian Horner thought he might have a buyer…………………….
Back to "Ginetta Stories"..........
All Rights Reserved © David Tearle 2023